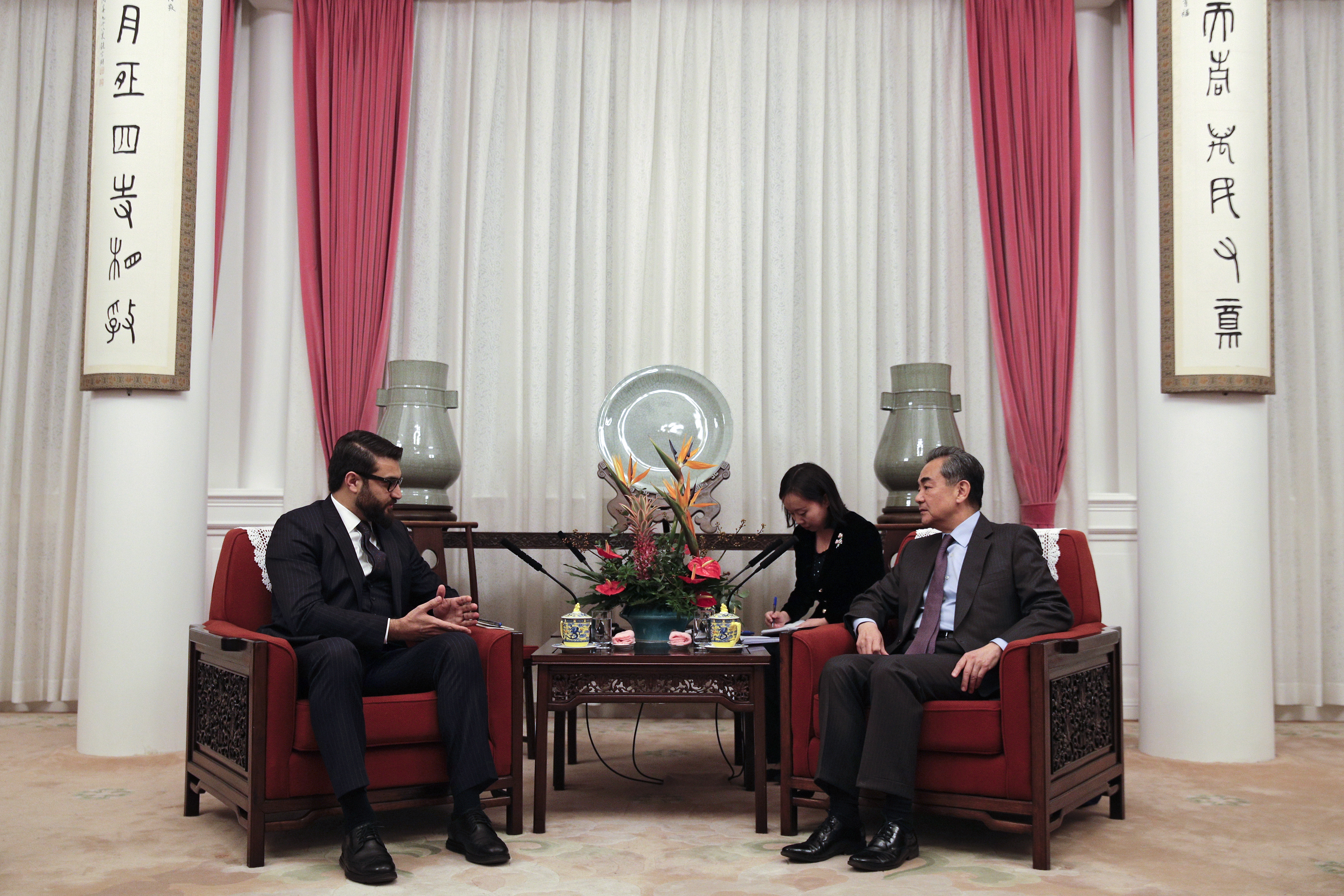 Rupert Stone
Afghanistan is not a priority for its largest neighbour, China. Beijing did not commit troops to the war that began in 2001, and its economic footprint has been limited. True, Chinese aid has increased in recent years, and there have been initial steps to incorporate Afghanistan into the Belt and Road Initiative. But China's role pales in comparison to its investments in Pakistan and other regional countries, where it has massive infrastructure projects. As long as the Afghan war continues, insecurity will likely prevent greater Chinese involvement.
But China is expanding its security commitment to Afghanistan, both to pave the way for Belt and Road expansion, but also to defend itself against terrorists who could use Afghan territory as a safe-haven. Beijing's concern for Afghan security has grown since 2014, when China was undergoing a sudden burst of terrorist attacks, and when the NATO combat mission was due to end, leading many to expect greater levels of violence. Beijing has, at times, been accused of exaggerating terrorist activity to justify alleged political repression of its ethnic Uighur minority. While the stated official position of China on Xinjiang defies such allegations, this should not obscure the very real threats China could face in Afghanistan and the broader region.
In recent years, Beijing has fortified its western border considerably. A new counter-terrorism law came into effect in 2015 allowing foreign military deployments. Since then, there have been joint patrols with Afghan forces and reports of a base in the Wakhan Corridor. Around three years ago, Beijing constructed another base on the border in Tajikistan, according to The Washington Post. Added to that, China also formed a security grouping with Pakistan, Afghanistan, and Tajikistan in 2016, the Quadrilateral Cooperation and Coordination Mechanism (QCCM). Beijing has provided a significant amount of military aid to Kabul, whereas the Afghan government extradited fifteen Uighurs in 2015.
China is also using diplomacy to address insecurity in Afghanistan, stepping up its involvement in Afghan peace talks. In 2015, it participated in a meeting at Murree with the Taliban and Afghan officials. The following year, it was part of the Quadrilateral Coordination Group with the US, Pakistan and Afghanistan. In 2017, it joined the Kabul Process convened by President Ghani, and played a role in the Moscow Format talks established by Russia. Moreover, China has increased its engagement with the Taliban, meeting the group several times in 2018. That year, President Xi also resuscitated the long-dormant Afghan Contact Group of the Shanghai Cooperation Organization (SCO).
China's main security concern in Afghanistan is the threat of Uighur militancy. The Uighurs are an ethnic group who predominantly inhabit the huge Xinjiang region of northwest China bordering Afghanistan, Pakistan, and Central Asian states. Unlike the majority Han Chinese, they are Muslims and speak a Turkic language. China has long feared Uighur separatist tendencies in Xinjiang, all the more so because the region is rich in natural resources and strategically located along Belt and Road routes. The Chinese government sees separatism as one of 'three evils', along with extremism and terrorism, effectively downplaying Uighur ethno-nationalism. Still, it is true that many Uighurs do want a state of their own, which they refer to as 'East Turkestan'.
The perceived threat from Uighur militancy grew in the 1990s, when a group known as the East Turkestan Islamic Movement (ETIM) emerged in Afghanistan. Much about ETIM remains murky, but its presence on Afghan soil was at the very least tolerated by the Taliban and al-Qaeda. Taliban emir, Mullah Omar reportedly insisted the group refrain from attacking China as a condition for staying in Afghanistan, given that Omar wanted China's support against the U.S. After 9/11, the U.S. killed and captured numerous Uighur militants, detaining some of them at Guantanamo Bay. ETIM was driven over the border into Pakistan, where it settled in the tribal areas. However, Islamabad cracked down on the group at China's behest and killed its leader, Hasan Mahsum, in 2003. ETIM subsequently dissolved.
In 2006, a new entity appeared in Pakistan calling itself the Turkestan Islamic Party (TIP) which seemingly launched a number of attacks against China around the time of the 2008 Beijing Olympics. Chinese concerns about instability in Xinjiang increased significantly following riots in Urumqi in 2009 and a spate of terrorist attacks involving Uighurs, including one at Tiananmen Square in 2013 and another in Kunming in 2014. That year, Pakistan launched a major military operation, with Beijing's encouragement, to expel Uighurs and other militants from the tribal areas, who subsequently fled into Afghanistan. The number of Uighurs in Afghanistan now appears to be quite low, a few hundred, at most, and they do not pose a direct cross-border threat to China given the remoteness of the frontier.
However, a far more serious concern for Beijing is the conflict in Syria, where a substantial number of Uighurs have gone to fight. The TIP apparently has thousands of militants in Idlib province fighting alongside al-Qaeda affiliates there. If and when the Assad regime drives the militants out of Idlib, they could relocate to Afghanistan or Central Asia and attempt to strike Chinese interests. While only a few hundred Uighurs appear to have joined Islamic State, the group has repeatedly signalled its intent to attack China. ISIS' self-proclaimed caliph, al-Baghdadi also mentioned China in his first speech. Both ISIS and al-Qaeda have released anti-Chinese propaganda videos.
It would be difficult for these militant groups to infiltrate China itself and conduct attacks inside the country, given the strength of the Chinese border and Beijing's enormous internal security apparatus. But they could target China's interests overseas. The Belt and Road Initiative and other projects have seen Chinese assets extend far and wide, including to Pakistan and Central Asia. Uighurs returning from Syria could certainly try to attack CPEC projects in Pakistan, or Chinese-funded infrastructure in Tajikistan or Uzbekistan. There have already been some incidents. In 2016, the TIP bombed the Chinese embassy in Bishkek. Islamic State kidnapped and executed two Chinese teachers in 2017. Pakistan has mobilized a substantial force to protect Chinese personnel.
The terror threat to China emanating from Afghanistan goes well beyond Uighur militancy. There are also Baloch separatist groups who have used Afghan territory as a launch-pad for plots against Chinese interests in Pakistan, including a recent attack on a hotel in Gwadar, a central part of CPEC. TTP is also sheltering in Afghanistan. It killed a Chinese tourist in 2012 as revenge for Beijing's policies in Xinjiang, and sees "non-Islamic countries allied with Pakistan" as "viable targets". All this understandably makes China vigilant about militancy in the region and eager to end the war in Afghanistan.
In the ongoing Afghan peace talks, the U.S. has apparently secured a provisional commitment from the Taliban to oppose al-Qaeda and Islamic State in return for the withdrawal of its forces. Some analysts are sceptical that the Taliban will cut ties with al-Qaeda, given their long association with the group. Moreover, there are valid concerns that the Taliban, which lack an air force, will be able to enforce a counter-terrorism commitment. However, Beijing will be eager to ensure that the Taliban do live up to their  side of the bargain. And, given China's desire to incorporate Afghanistan into the Belt and Road, it has substantial economic incentives to offer in return. The Taliban clearly realize the importance of foreign assistance for Afghanistan's aid-dependent economy, with chief negotiator Stanikzai telling the BBC that it would even welcome the U.S. to participate in the country's reconstruction.
While the terror threat in Afghanistan is of course concerning, it could have a silver lining, uniting the U.S. and its rivals behind a peace deal to end the war.
Rupert Stone is an independent journalist based in Germany