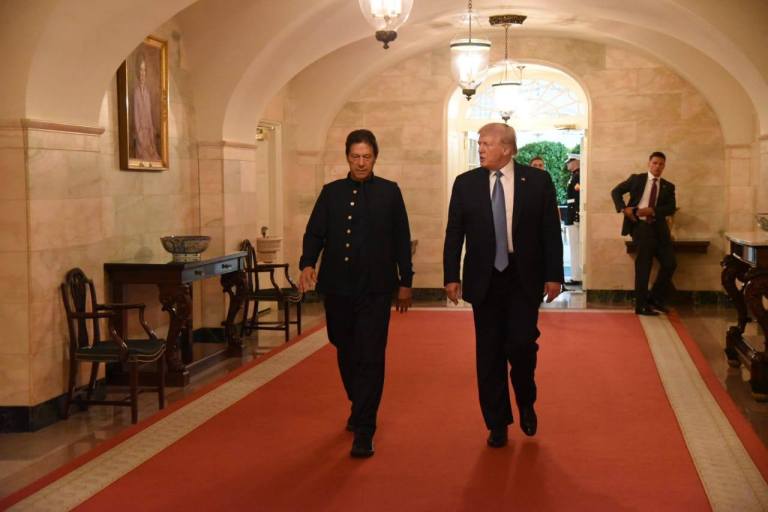 A View from Islamabad
Khalid Banuri
The persistent ebb and flow in Pakistan's bilateral relations with the United States has almost been a constant. From close contacts at the leadership level in the 1960s, to the highly diverse patterns – of the most sanctioned ally, the major non- NATO ally, et al – to the contemporary era of the new alignments inclusive of a closer U.S.-India strategic partnership, the American relationship with Pakistan had found new lows over the years. The transactional relationship often created misgivings and contributed to the trust deficit.
The Big Meeting
In this backdrop, during the run up to PM Khan-President Trump meeting at Washington DC, the expectations were cautiously optimistic at best. What one noted during the most happening three days of the visit were a series of activities, a media stake out, a one-on-one meeting followed by delegation level interaction. It appeared that Khan went in with a clear agenda of what his priorities were during the visit, some spoken while others unsaid. It appears that he remained focused and was able to get what he set as the rungs of his priorities.
It is no rocket science to note that both had several similarities in their approach. Trump likes strong leaders who get the job done and found Khan to be so. It is quite apparent that Imran Khan remained conscious of Trump's personality factor and successfully went ahead to create a bonhomie that he had hoped for. An energy filled public event and much publicized meetings with Pakistani diaspora as well as leading American officials added to the general appeal. A certain hope and a sense of warmth has thus been generated both on the Pakistani side but also perhaps at the White House.
But hope is not a strategy.
While many back home may be elated with huge expectations from a so called turn around, the pessimists amongst us are highly skeptical too.
Truth as they say, is somewhere in between.
Needless to over emphasize that the re-engagement would not only be good for regional stability but would also be in consonance with the U.S South Asia strategy that seeks peace amongst neighbours. The trend in the change of atmosphere has also been noticed at various levels – people on both sides and the U.S. Congress.
What the Prime Minister has been able to achieve, with high energy reciprocity of course, needs to be carefully navigated now by the bureaucracy, both at home as well as at the bilateral level. The devil thus is in the implementation game plan.
Many aspects can be discussed in the backdrop of this interaction, but a discussion on the more important opportunities and their ensuing challenges would include the following issues:
Afghanistan – Wither the Future
The strategy lens would suggest that Khan went in with an aim to draw attention to Pakistan as an important state worthy of attention and has been largely successful in that. That Trump had Afghanistan on his mind as a high agenda point was easily recognized mutually as a common interest. With the preliminary debates starting for Fall 2020 Presidential elections, it may be fair to assume that Trump would expect Pakistan to deliver on Afghanistan, in a given timeframe. However, there is also a recognition that Afghanistan is a highly complex issue. While Trump would be interested in tangible results allowing smooth troops withdrawal, or at least a plan to do so, Pakistan's challenge would be the extent to which it could possibly deliver on it, with desired transparency, say by Spring 2020.
Modi and Kashmir
True to his style, Trump pulled out the K rabbit out of his hat, offering mediation on Kashmir issue as a possibility. While this may have surprised India, Khan's response successfully identified two issues clearly: one, that it is a lingering issue, but more importantly, that a resolution would be beneficial to over a billion people. Khan was also swift in recognizing, and voicing that mediation, not arbitration, had a chance.
In retrospect, one could have almost immediately predicted that an impending Indian denial was a given. The Indian media went into an endless frenzy, thereafter, sending hate signals, calling Trump a liar. GOI was questioned by its upper and lower house of the parliament. Small wonder that GOI denied any intent for accepting a third-party role in bringing this simmering issue back to square one. Or did they?
Dismiss the Indian uproar, what Khan was clearly able to achieve is irreversible – Kashmir is an issue that is screaming for the attention of the international community for a permanent resolution. Kashmir is the new black now.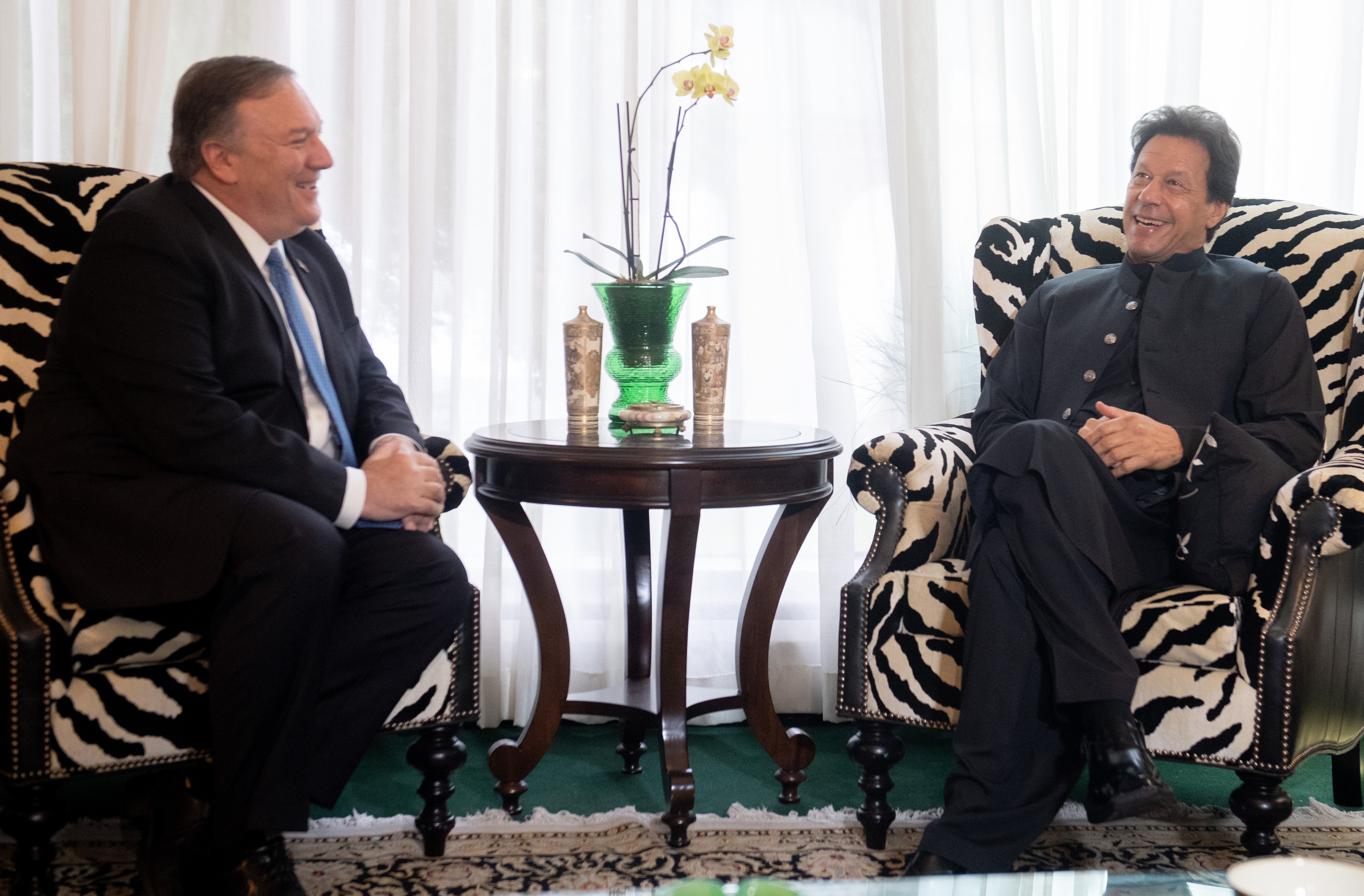 Trumping by the American Bureaucracy?
There have been speculations about the extent to which the American bureaucracy – within the Trump Administration – is aligned to the Presidential approach, especially its willingness to execute the spirit of the Presidential intent. Several indicators suggest that the skepticism is rather rampant. The Khan-Trump interaction being primarily a White House initiative, implies that the traditional tools of the establishment, a la the State Department, may still be nursing its traditional position of mistrust that did nothing in the past to mend this relationship. Whether an out-of-the-box approach eventually become sustainable, would depend upon Trump's persistence as well as Islamabad's preparation and employment of its diplomacy at all levels.
Trade and Finance
Trump signaled the possibility of an enhanced U.S. trade with Pakistan, which requires careful analysis and following up. An obvious question is whether the American signal for bilateral trade enhancement will actualize in a near timeframe? Afterall any investment trends would carry the potential to enhance the stakes on both sides, thereby resulting into the desire for sustainability.
While more trade can open more doors in general, the biggest challenge for Pakistan would be the ability to deliver on the trade expectations at three tiers: first, politically, enlarging the trade envelope; second, economically, managing the exports through quality and efficiency, yet more importantly, financially, affording whatever American imports would be relevant for Pakistan's economy. The willingness for further movement is already signaled by Pakistan through steps that it took in FATF context, to prevent terror financing by proscribing some entities and ordering arrests.
U.S. and China Trade
One of the global fronts that the U.S. has to deal with is the lingering concern that Trump has had on his mind: the question of how to effectively deal with the American trade dilemma with China.
A historical prism may remind us of the role that Pakistan played years ago, in rapprochement between the U.S. and China. With Pakistan's historically close and strategic ties with China, a highly visible mutual interest owing to China- Pakistan Economic Corridor, and now a probability of a reset in Pak-U.S. relations, there is a stronger case for Pakistan to play a positive role to promote mutual interest between the U.S. and China of sustaining positive trade relations. Any progress in such facilitation, however trivial, can reduce the confrontational temperature between the two big powers.
What Now?
So an opportunity got created, with the U.S. President listening. What happens now?
Since the Indian aggression in February 2019, Pakistan has been methodical in evading the isolation efforts against it, so as to enhance its strategic relevance. During the last six months or so, it engaged with the Middle East, the European Union, China, Russia, and now the U.S. The regional connectivity, through Afghanistan, is likely to keep all major stakeholders constructively engaged in the region.
While Khan's position on truth and mutual respect can be the baseline of the next steps, interspersed with mutual willingness for necessary transparency, the ensuing challenge is to be able to follow through in multi-faceted directions with an objective to create a sustainable conducive environment.
The hurdles would of course be brought in by the naysayers, to impede any progress on the bonhomie. That could translate into problems both at home and abroad – in all probability there could be new impetus to the terrorism incidents in Pakistan – to distract Pakistan from its primary intent and to create an environment of uncertainty. It does not need to be over emphasized that an anxiety already exists about the possibility of false flag operations against Pakistan's interests.
The challenge in Pakistan thus is: first, at the domestic level, for an intense, coherent, and sustainable, inter- agency process; and second, at plurilateral level,  the ability to engage various stakeholders in the Afghan quagmire.
It is time for the intelligentsia in Pakistan, academia, think tanks, individual scholars, to leave aside their respective political sensitivities, and to churn out policy papers for Pakistan's policy makers to choose from, rather than resorting to the rather easier path of televised talk show performances.
The foot is in the door, but time is fleeting.
Khalid Banuri was SPD's first Director General of Arms Control & Disarmament Affairs Branch (2012-17). He currently teaches 'Use of Force and International Law' at Quaid e Azam University Islamabad. The views expressed herein are his own.