Ahmed Quraishi
There was not a single dull moment in the visit to Pakistan by Crown Prince Mohammad bin Salman Al-Saud. It was an unusual visit from start to finish, delayed by a day, a nightmare for Pakistani and Saudi protocol officers who hammered out the details for days and weeks in Riyadh and Islamabad. A huge delegation of nearly 1,500 people escorted the prince, two major terror attacks in the neighborhood, and the prospect of a war between nuclear powers greeted him here.
The Saudi-Pakistan relationship has long been one of the mysteries of foreign-policy pop culture. The two nations' close ties to the United States during the Cold War made them a pillar of regional and international security, and their pro-Western credentials kept them in good stead with major powers.
But Cold War is a relic of history now, and new dynamics are shaping the twenty-first century. Islamabad and Riyadh are lucky in having escaped the negative effects of Arab Spring and religious militancy where other major regional nations, like Iraq, Syria, Libya and Egypt, suffered tremendously. Egyptian military pulled the nation back from imminent collapse, paying a high price in political stability and economic development. The Pakistanis and Saudis were in a better place for several reasons. Both nations had a moderate majority that stopped extremists from hijacking the State. Riyadh had a stable royal family, strong military and an educated population that did not gravitate too much towards religious extremism or political chaos. In Pakistan, a robust military leadership, and a centrist, moderate majority population helped save the country from decades of militancy, the aftereffects of Afghan wars, mismanaged economy, and endemic political corruption.
Having come out of the post-9/11 mess in the region, Islamabad and Riyadh feel confident, strong and optimistic about the future. And they have a vision for the region and the world and their place in both.
The bonhomie developed between the Crown Prince, widely known by his initials MBS, and Prime Minister Imran Khan, affably known as IK among young Pakistanis, is much more than a personal relationship. The personal is deeply connected with State business, and this relationship encompasses strategic plans for the region.
NEW Generation, New Alliances
The visit of the Saudi crown prince to Pakistan symbolized passing the torch of this alliance to a new generation in both capitals. The Saudis added several influential young princes of the Al-Saud family to the delegation coming to Islamabad. This was done specifically for Pakistan leg of the prince's tour, and these royals did not proceed to India or China. Though there were many government ministers, officials, and businessmen in the delegation, the inclusion of young princes was meant to give them education about the centrality of the kingdom's relationship with Pakistan. This was an educational trip for them. From the Saudi perspective, this was a seminal moment, like the first meetings between Saudi founders and American leaders at the start of the last century, or the first meetings of Pakistan's founder, Quaid-e-Azam Mohammad Ali Jinnah, with the Saudis during the freedom movement, when Mr. Jinnah traveled the Middle East seeking political support.
It was also a moment of education for Pakistan's rising young generation. Both Saudi Arabia and Pakistan are young nations, with the under-40 in majority and increasingly influential politically and economically.
MBS has massive popular support in the kingdom from the young generation. Therefore, there was hardly any opposition when he took major decisions on women, entertainment and social liberalization. This is attributed to a generation of Saudi men and women who studied in western universities under generous government-funded scholarships for both genders started by the late King Abdullah two decades ago. MBS reaped the fruits of that policy as that generation embraced his reforms and gave him political support to counter the strong and influential conservative base in the kingdom.
IK has similar credentials. Despite being much older than MBS, the two share a dynamic, new youthful outlook. Both enjoy support from younger generations. And both want to bring major changes to their nations' roles in the region and the world. In this way, MBS and IK have a lot in common with President Trump, of the MAGA fame, and with Sheikh Mohammed bin Zayed, the MBZ of UAE.
These men of famous acronyms are changing the face of politics in their countries and regions.
Rising Powers
Both Pakistan and the Kingdom of Saudi Arabia went on the back foot after 9/11. Many thought Riyadh and Islamabad will be victims of internal collapse or uprising. While they still live in a difficult neighborhood and are by no means out of the woods, Islamabad and Riyadh have taken control of their situations and are actively reshaping the narrative.
The Kingdom is an energy superpower that is refashioning itself now as both an economic powerhouse and a military power. Pakistan is a nuclear power with immense untapped economic potential and one of the fastest growing economies in Asia.
Instead of waiting for events to engulf them, the Saudis took charge and rallied to stop the collapse of the last major Arab state: Egypt. Riyadh and its allies intervened in Yemen to support the Yemeni government against a foreign-backed militia, and to stop the militia from spreading chaos to Gulf states in fulfilment of foreign agendas.
Like the Saudis, Pakistan led the way to reshape a regional narrative. Islamabad destroyed the Afghan-based terror networks of TTP and BLA and other groups, arrested or eliminated extremist and sectarian actors and figures within the country, and dismantled major spy and sabotage networks operating within or from bases in neighboring states. While doing all this, Islamabad moved to end 'economic terrorism' by reducing political corruption and took steps to end foreign political interference through the media and nongovernmental organizations.
Both countries faced a lot of criticism for their actions to take charge of their situations, end corruption, fight terrorism, and reshape national narrative. But they persisted in their national agendas.
The last time these two countries came together, in the 1980s, they changed the face of politics in the Muslim world and globally by leading the campaign to defeat communism in Afghanistan and help the Afghans retake their country. Today, Prince Mohammed bin Salman and Prime Minister Imran Khan want to reform the role of Muslims in the international system, focus on regional connectivity and prosperity, and end militant groups that abuse religion.
Officials of the two countries are casting Crown Prince's visit as something akin to transferring the close political, military and intelligence cooperation to the next generation of Pak-Saudi leaders.
Pakistan virtually abandoned its regional role and withdrew inwards in 1991 after playing a key role with the West in decisively ending the Cold War. Islamabad appeared exhausted of spy games and wars and turned its focus to chaotic domestic politics and struggled with the aftereffects of Afghan jihad next door. Now, with the change of guard in Islamabad last year after the most important elections in three decades, Pakistanis are ready to embrace their country's regional and international roles again under Prime Minister Khan. Saudi officials recognize Mr. Khan's agenda and appreciate Islamabad's strategic potential. Riyadh shows willingness to be associated with Pakistan's regional and international vision of prosperity, regional connectivity and end to conflicts.
In return, Islamabad wants to hitch its wagon to a Saudi Arabia that is changing, with its economic potential, political influence, and religious authority. The Saudi Vision 2030, Riyadh's leading role in the Islamic world in combating extremism and encouraging younger Muslims to contribute to the global civilization and not be a passive consumer, all these ideas excite Pakistani leaders and public. Pakistan wants to join this grand vision and supports it.
Pakistan's Gulf Interests
Pakistan has a role in the stability and security of the Arab Gulf region. This partially explains why allies like Saudi Arabia and the United Arab Emirates are eager to help Islamabad overcome economic and political troubles. Stability of Saudi Arabia and the Gulf impacts the largest Pakistani diaspora in the world, the biggest foreign remittances to Pakistan, and Pakistan's energy supplies, which Islamabad can get on easy terms when necessary. Islamabad is committed to its national interests in the Gulf region.
A discussion on Gulf security cannot ignore Iran's role. But Pakistan's relations with Iran are at a different level and not linked to Islamabad's interests in the region. Pakistani officials routinely talk about mediation between Iran and other states in the region that object to Tehran's involvement in Arab countries. It is possible that Islamabad touts its mediatory role in recognition to Pakistan's Muslim credentials more than any real mediatory push. It is also not clear if Tehran, Riyadh, and other capitals in the region are ready to respond to Pakistani offers of mediation. At a minimum, the Pakistani channel helps sometimes as a back-communication hotline that helps reduce tensions, if not end them.
Pakistan's relations with Saudi Arabia and GCC are de-linked and de-hyphenated now from its relations with Iran. Both are not mutually exclusive and are not a zero-sum game. Regional ties, Islamabad feels, should be based on respect and non-interference in national sovereignty. Pakistan has its own major interests in the Gulf and the Middle East and Islamabad intends to restore its role in the region, protect its interests, and work with Riyadh, Tehran, and other nations. Pakistan's interests trump every other consideration.
As a neighbor, Iran's troubles and problems across the region represent a challenge for Pakistan. Iranian involvement in multiple conflicts, including in states that have close ties to Islamabad, complicates matters for Pakistani diplomacy and impacts Pakistani interests. As a neighboring Muslim country, Islamabad wants close relations with Tehran and encourages Tehran to improve its relations with other Muslim nations, and vice versa. Diplomats say Islamabad has advised Riyadh to end Yemen war and find a political solution, and counseled Iran to end its involvement in multiple regional confrontations, and improve ties.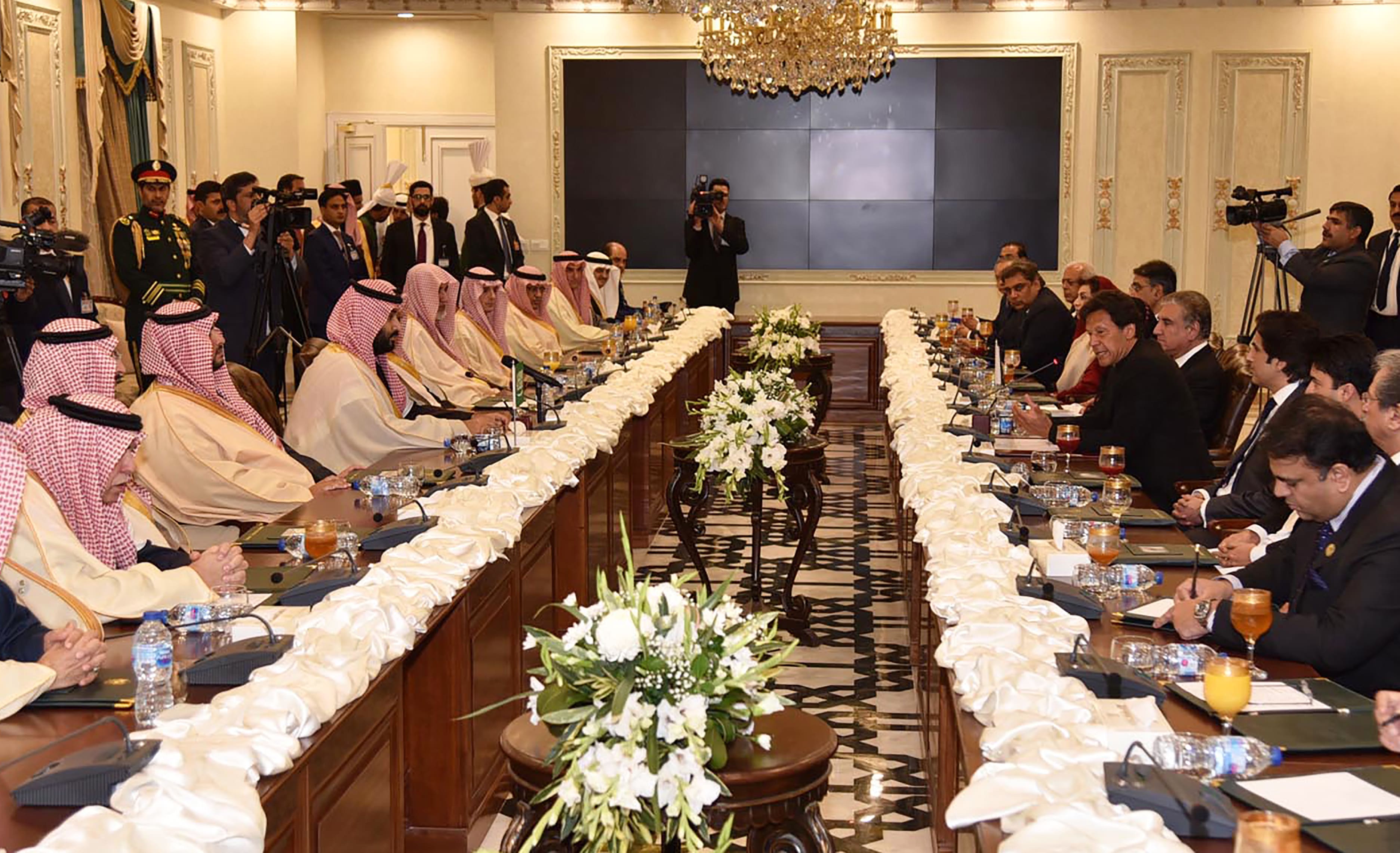 Ending Religious  Groups 
Ending the role of extremist and sectarian groups across the region is another objective that Islamabad shares with Riyadh. To this end, Islamabad is supporting the vision of Saudi Arabia and the 41-member Islamic Military Counter Terrorism Coalition (IMCTC). Saudi and Pakistani officials agree on the idea of eliminating extremist, sectarian, terrorist ideologies and groups, and support IMCTC's goal of harmonizing Muslims across all sects through tolerance and acceptance. If successful, this could end a major underlying cause of strife in the region.
Global Muslim Integration 
Today, Pakistan and Saudi Arabia are part of a vision pushing for regional harmony, conflict resolution, peace, tolerance, acceptance, progress and prosperity. It is an important, ambitious agenda and one that should attract wider support across the region and the world.
Pakistani and Saudi political and religious scholars are working on ideas that include shaping a new narrative of Muslim interaction with the world. This includes encouraging Muslim minorities in the West and in other countries in the world to integrate with their societies, and demand rights peacefully. Moreover, Pakistani and Saudi officials feel young Muslims should join the global culture and economy as active contributors and not as just passive consumers. In short, it is time for Muslims to join the global civilization.
Pakistan and Saudi Arabia defined 20th  century by supporting religious fighters as part of a global coalition. Today, the two return to Afghanistan to end one of the longest wars, and help America stabilize Afghanistan and the region. Saudis are working with Beijing and Islamabad to join the China-Pakistan-Economic Corridor, CPEC. Eventually, when the time is right and political irritants are removed, Iran, India and others are expected to join this vision. It is a vision for a 21st  century of regional connectivity, global integration, bringing an  end to militant ideologies.
The West and the emerging economies of the world should support this ambitious project that Pakistan and Saudi Arabia have launched.
Ahmed Quraishi is a Senior Research Fellow at Project for Pakistan in 21st Century, a private research group based in Islamabad.