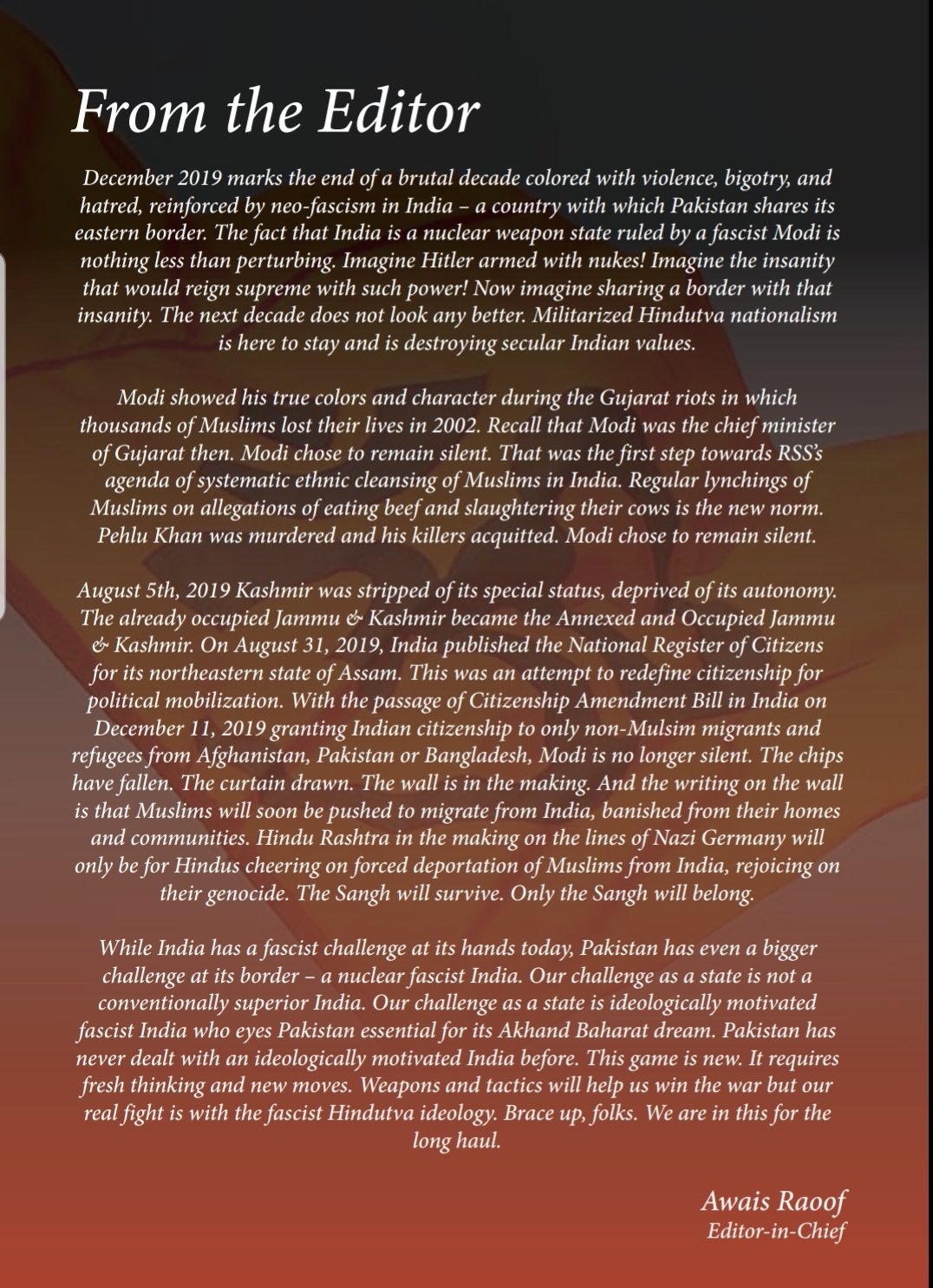 From the Editor
December 2019 marks the end of a brutal decade colored with violence, bigotry, and hatred, reinforced by neo-fascism in India – a country with which Pakistan shares its eastern border. The fact that India is a nuclear weapon state ruled by a fascist Modi is nothing less than perturbing. Imagine Hitler armed with nukes! Imagine the insanity that would reign supreme with such power! Now imagine sharing a border with that insanity. The next decade does not look any better. Militarized Hindutva nationalism is here to stay and is destroying secular Indian values. 
Modi showed his true colors and character during the Gujarat riots in which thousands of Muslims lost their lives in 2002. Recall that Modi was the chief minister of Gujarat then. Modi chose to remain silent. That was the first step towards RSS's agenda of systematic ethnic cleansing of Muslims in India. Regular lynchings of Muslims on allegations of eating beef and slaughtering their cows is the new norm. Pehlu Khan was murdered and his killers acquitted. Modi chose to remain silent. 
August 5th, 2019 Kashmir was stripped of its special status, deprived of its autonomy. The already occupied Jammu & Kashmir became the Annexed and Occupied Jammu & Kashmir. On August 31, 2019, India published the National Register of Citizens for its northeastern state of Assam. This was an attempt to redefine citizenship for political mobilization. With the passage of Citizenship Amendment Bill in India on December 11, 2019 granting Indian citizenship to only non-Mulsim migrants and refugees from Afghanistan, Pakistan or Bangladesh, Modi is no longer silent. The chips have fallen. The curtain drawn. The wall is in the making. And the writing on the wall is that Muslims will soon be pushed to migrate from India, banished from their homes and communities. Hindu Rashtra in the making on the lines of Nazi Germany will only be for Hindus cheering on forced deportation of Muslims from India, rejoicing on their genocide. The Sangh will survive. Only the Sangh will belong. 
While India has a fascist challenge at its hands today, Pakistan has even a bigger challenge at its border – a nuclear fascist India. Our challenge as a state is not a conventionally superior India. Our challenge as a state is ideologically motivated fascist India who eyes Pakistan essential for its Akhand Baharat dream. Pakistan has never dealt with an ideologically motivated India before. This game is new. It requires fresh thinking and new moves. Weapons and tactics will help us win the war but our real fight is with the fascist Hindutva ideology. Brace up, folks. We are in this for the long haul. 
Awais Raoof
Editor-in-Chief