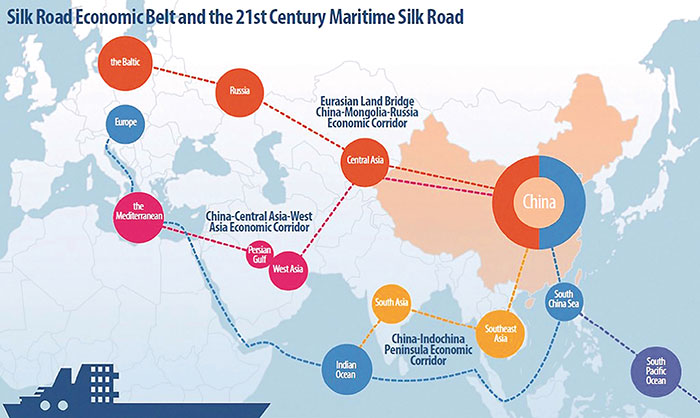 Sardar Masood Khan
The Belt and Road Initiative (BRI) of which the China-Pakistan Economic Corridor (CPEC) is a flagship project, is a global wave. The initiative covers 68 countries, 62 percent of the world population, and one third of the world GDP. It spans three continents – Asia, Africa and Europe  – and may soon be embraced by the Americas.  It projects hard power through solid transnational investments  across continents and soft power through a new international culture of cooperation amongst nations and regions.
Already, under this initiative,  plans are underway to invest US $ 1 trillion in infrastructure, energy and industrial projects. It has its own banking system under the banner of the Silk Road Fund and the Asian Infrastructure Investment Bank. This initiative is much bigger than the Marshall Plan in volume and geographical expanse.
Dozens of  Chinese cities are connected with dozens of European cities. China invests in Europe in the energy, telecommunications, and real estate sector; and Europe receives millions of Chinese tourists. Europeans have invested heavily in the industrial and services sectors in China creating mutual dependencies.
CPEC is the flagship project and essentially an offshoot of the BRI. So any role Pakistan can or will play between Europe and China will be within the framework of the BRI and CPEC combined.
As the hub of the China-Pakistan Economic Corridor (CPEC), Pakistan is both a conduit and a destination for logistical chains, trade and  investments. Over the years, Pakistan has strengthened its national security and developed national consensus around this game-changing mega-project.
CPEC is not an apparatus to colonize Pakistan. Pakistan is too large and important a state to be colonized; China is not and has never been a colonial power and the colonial era is over forever. Pakistan is a sovereign and solvent and will pay up its CPEC and non-CPEC debts. If anything, Pakistan has become a land of opportunity.
I believe that both the BRI and CPEC are a conscious effort to reach out to Europe which will bring Europe closer to the Chinese markets and vice versa; and for  Europe it is prudent to reciprocate. Many European countries are reciprocating and taking their own initiatives to secure and expand their space in the BRI.
However, Europe's response to the BRI right now is split. Supporters welcome it. The French President Macron, for instance,  said that his country would be a "cheerleader" for the BRI in the European Union and and the British Prime Minister Theresa May talks of Sino-UK relations' as the "golden era", post-Brexit and post-BRI. Critics contend that the BRI will erode the EU's unity and cohesiveness,  give tough competition to European trading and corporate entities in the Eurasian markets, and may well affect or even threaten its security and its share in the overall power balance in the long run.
German Chancellor Merkel sees the BRI's impact as  one of the "greatest challenges" and German political elite is calling for a "One Europe" policy towards China. They suggest that the EU's interests are aligned more naturally with the Quadrilateral Security Dialogue (Quad) countries – the US, Japan, Australia and India – and therefore it should explore a rule-based connectivity by partnering with them.
The CPEC is not just a stand-alone project. It is developed into a plexus or a docking port for connecting East Asia, South Asia, Central, West, and Southwest Asia. It may well become a collaborative arrangement like BRICS in due course since many regional and extra-regional states are showing interest in it. Although launched by China and Pakistan, it has already attracted attention of Russia, Turkey, Italy, France and the UK. Germany, Spain, and others could join in and the cumulative investments from these countries will give a huge stimulus to the CPEC itself. Several European countries are already consulting with Pakistan and China to participate in the CPEC projects.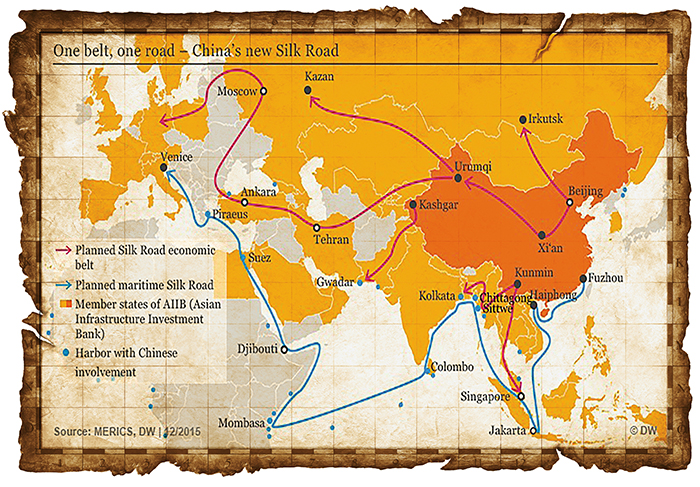 The UK, in particular, which is linked officially to the BRI, has shown keen interest in investment in non-EU projects such as CPEC. British Foreign Secretary Boris Johnson has called it "a wonder project" and has encouraged UK firms to support the "construction of this fabulous venture", which in his view will "revive the ancient Silk route and see the rebirth of trading caravans connecting East and West." He has expressed optimism that Karachi would be Asia's "biggest trading entrepot" along with Dubai,  Singapore and Shanghai.
Similarly, France has shown interest in strengthening economic and commercial relations with Pakistan and has acknowledged that CPEC has created many business and investment opportunities for the two countries and France is willing to come forward with its technology and expertise to fill the gaps in Pakistan. The French president has called CPEC a good connectivity channel for the region; and France has already increased its investments in multiple sectors in Pakistan, with a Euro 700 million development portfolio. But this is modest, given the vast potential that lies ahead.
While Russia and Pakistan are exploring several avenues of defense and military cooperation, both countries want to build economic ties inside and outside the framework of CPEC. The Gwadar Port, in particular, will give Russia access to warm waters via Central Asia for international trade, which has been an age-old dream of the Russian strategists. Russia has also shown readiness to invest in many economic sectors, including a steel mill, roads, railway and pipelines.
Pakistan is already doing business with Europe. Europe contributes nearly 25% of Foreign Direct Investment to Pakistan and the volume of Pakistan-EU trade is Euro 12.7 billion approximately.  Under GSP+ arrangements, meant to support Pakistan's governance, sustainable development and environmental protection, Pakistan enjoys concessions in duties on two thirds of categories of export items.  The European Union is Pakistan's most important trading partner, accounting for 13 % of Pakistan's total trade and roughly 24 % of Pakistan's total exports. To the EU, Pakistan mainly exports textiles and clothing; and it imports, from the EU,  machinery, transport equipment and chemicals.
Pakistan is conscious that it needs to tap the full potential of  the EU's market of 460 million people, as well as the EU's treasure trove of technology and knowhow. Pakistan is not a small market either with a population of 207 million and 62 percent of them under the age of 30. This is the biggest youth bulge which makes Pakistan the youngest country in the world.
Pakistan would use CPEC as a catalyst for economic transformation, modernize its industry, develop its maritime economy, build its human capital, and diversify its trading partners and sources of investment. Joint investments by Europe, Pakistan and China under the umbrella of CPEC would create huge opportunities for livelihoods, businesses and human development. In this context, it will build  bridges between Europe and China, Europe and Asia. Pakistan will play a pivotal part in this process.
Azad Jammu and Kashmir, is also now integrated into the China-Pakistan Economic Corridor and four projects under CPEC have been initiated. These are two hydropower projects, one of them being directly funded by the Silk Road Fund, one expressway and an industrial zone. This augurs very well for Azad Kashmir's economy.
Sardar Masood Khan is the President of Azad Jammu and Kashmir (AJK). This is a summarised version of his speech delivered at the Austrian Institute for European Security Policy (AIES) on May 29, 2018 in Vienna.