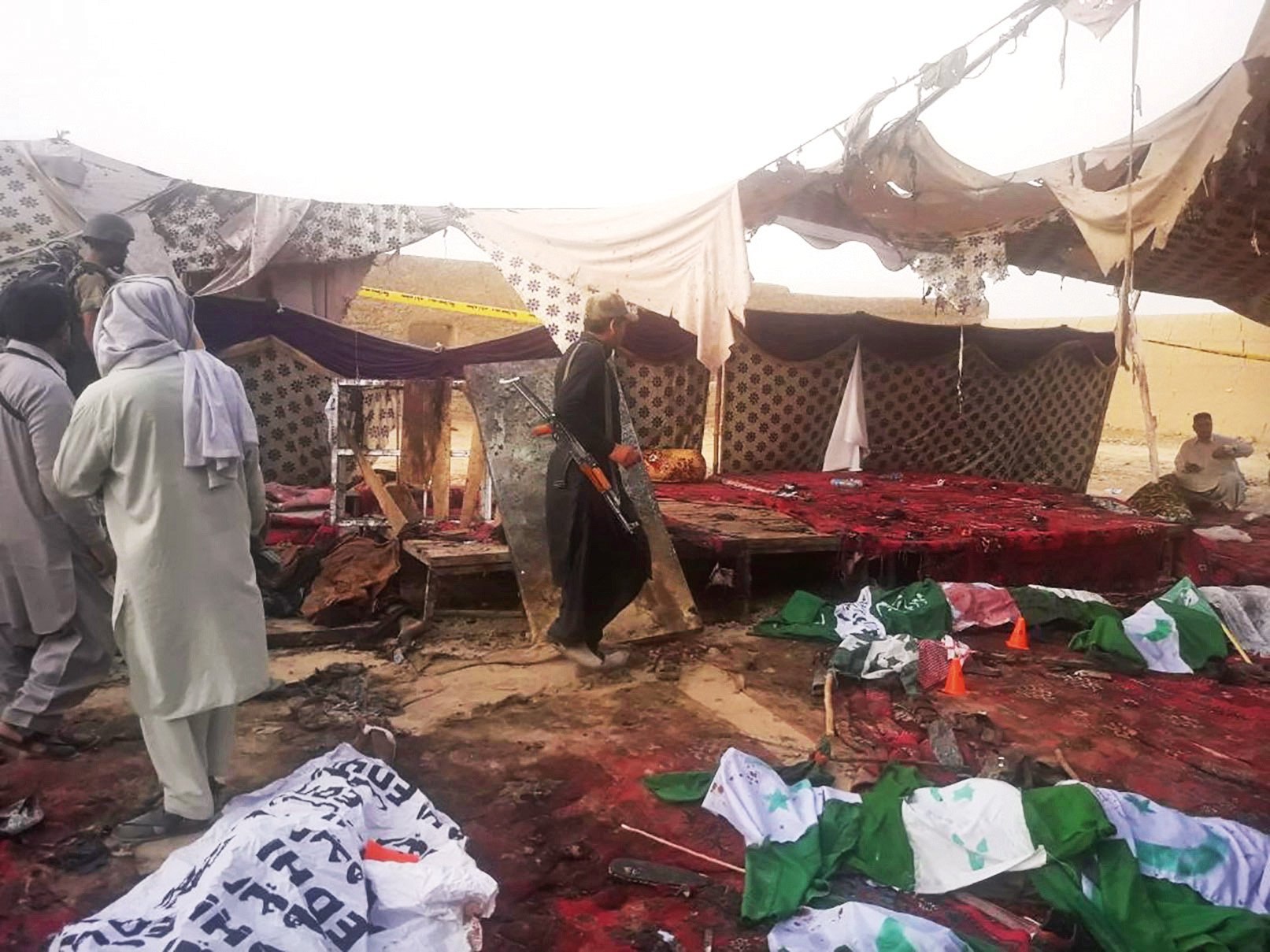 Abdul Basit
The Islamic State of Khorasan (ISK) – the formal franchise of Islamic State (IS) terrorist group – surfaced in the Afghanistan-Pakistan border region in 2015. Since then, the terror group has consolidated its place in Af-Pak's competitive militant landscape making it more complex and volatile. Presently, it is an Al Qaeda-IS hybrid threat-landscape, where the former is ideologically well entrenched but operationally dormant, while the latter is operationally more active and ideologically resurgent. ISK is attracting the younger generation of Pakistani militants in its fold.
The two recent attacks by the ISK in Pakistan and Afghanistan underscore the magnitude, scope and nature of its threats to the region. On July 16, ISK targeted an election rally of the Balochistan Awami Party (BAP) in Mastung killing 149 people – including Nawab Siraj Raisani – and injured over 300 people. Following this attack, the security forces eliminated the mastermind of the attack and chief of ISK's Balochistan chapter, Mutfi Hidayatulah in Kalat district. Similarly, on July 18, ISK militants stormed a hideout of the Afghan Taliban in northern Afghanistan's Sar-e-Pul province killing 15 Taliban fighters.
These two attacks show the geographical outreach and operational capabilities of ISK. Both are high-profile attacks and intended to create mass casualties and publicity. Conceptually, the strength and functionality of a terrorist group is measured through four variables, its ability to carry out attacks, traction of its ideological narrative in the society, ability to recruit people and generate financial resources. On all four counts, ISK is well off. Moreover, according to renowned terrorism scholar Barack Mendelsohn, the lethality and viability of a terrorist group is mapped by looking at the number of partnerships it creates with other like-minded groups in a conflict theatre.
In the Federally Administered Tribal Areas (FATA), ISK has created ideological and operational partnerships with the Orakzai and Bajaur factions of the Pakistani Taliban. Similarly, militant group Lashakr-e-Islam (LI) which operated out of the strategic Tirah valley and is now based in the eastern Afghanistan's Nanagarhar province is ISK's implementing partner. Short of pledging allegiance, the LI provides logistical support to ISK.
In Balochistan, anti-Shia militant groups such as Jandullah, Lashkar-e-Jhangvi Al-Almi (LJA), Saifullah Kurd faction of Lashkar-e-Jhangvi (LeJ) and Jaish-ul-Islam are cooperating with ISK. These groups have facilitated ISK's attack in interior Sindh and Balochistan by providing their organizational infrastructure and logistical support in return for money.
In mainland Pakistan, some elements of erstwhile Lashakr-e-Taiba (LeT) – renamed as Jamaatud Dawan (JuD) – have defected to ISK. As a matter of fact, the current ISK chief, Aslam Farooqi is an ex-LeT commander. Recently, some elements from Jaish-e-Muhammad (JeM) have also joined hands with ISK. ISK has no formal organizational presence in Pakistan but through the above-mentioned alliances, it is capable of carrying out high-profile attacks in the country. The military defeat of the IS-central in Mosul, Iraq and Raqqa, Syria has not affected the operations of ISK in Afghanistan. On the contrary, the relocation of some IS-central fighters from Iraq and Syria to Afghanistan has strengthened ISK's organizational and operational capabilities. In 2017, media reports indicated that some French, Moroccan, Algerian and Chechen fighters from Syria relocated to northern Afghanistan's Jawzjan province. In March this year, in a 25-minute propaganda video, an ISK commander invited IS supporters and sympathizers worldwide to perform the so-called "hijrah" (migration) to Afghanistan if they faced difficulties in travelling to Iraq and Syria. Recently, the heads of Russian, Iranian and Chinese intelligence agencies met in Islamabad to discuss the growing footprint of ISK in Afghanistan, the steady trickle of fighters from Iraq and Syria to the war-torn country and the threat these developments entail for regional security.
ISK has two main factions in Afghanistan based in eastern Nangarhar and northern Jawzjan province. The faction in Nangarhar primarily comprises of former Pakistani Taliban commanders and fighters, while the group in Jawzjan consists of former militants of the Islamic Movement of Uzbekistan (IMU). As mentioned earlier, the Nangarhar-based ISK faction is headed by Aslam Farooqi, while the Jawzjan-based IMU faction of ISK is led by Abdul Malik, son for IMU founder Tahir Yuldashev.
The most dangerous aspect of ISK's threat to Pakistan is its ability to create a niche among the educated and younger generation of jihadists in the country. Whether it was the Saad Aziz-led pro-IS faction in Karachi involved in numerous attacks in the port-city or the Balochistan-based cell of college and university educated militants involved in attacks in Quetta, as mentioned in Qazi Faiz Issa Commission report, ISK has galvanised young and educated militants from Pakistan into its fold. Another case in point is Liaqut Medical College's student Naureen Laghari from Hyderabad, who was recruited online by ISK to carry out suicide attack on Easter Celebrations in Lahore in 2016 but was caught before she could execute the attack.
Ideologically, ISK is a Salafi-Takfiri militant group and it not only apostatizes Shias but it also ex-communicates Sufi Muslims. This is why ISK has deliberately targeted sectarian and communal fault lines in Pakistan involving attacks on Shia Imambargahs and processions as well as on Sufi Shrines. If ISK gains further in Af-Pak's militant landscape, the character of sectarian conflict in Pakistan will transform qualitatively from Sunni-Shia dynamics to intra-Sunni divisions as well.
ISK is a regional threat and requires joint and concerted efforts in regional and multilateral frameworks to counter its influence. Likewise, the preventive and countering strategies against ISK's ideological narrative have to factor-in issues of educated youth, remove their genuine grievances, give them ownership in the political system, pay attention to job creation and encourage student politics in universities so that they are retained within the mainstream of the system instead of moving towards the fringes. Lastly, the battlefield has expanded from real world to the cyber world where the battle of ideas and hearts and minds would be won only by better and smarter ideas.