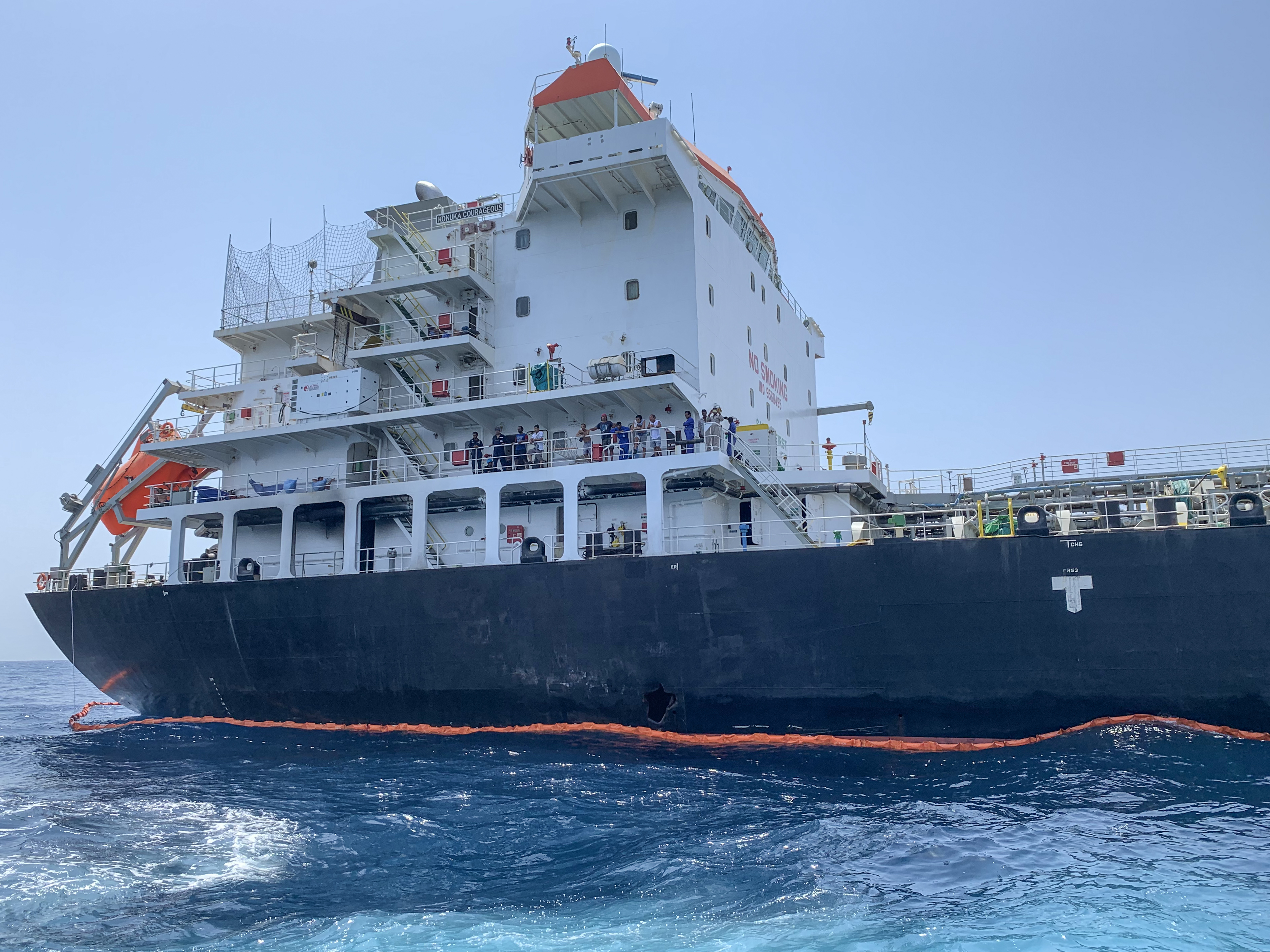 Huma Baqai
The war of words is already in full swing between Washington and Tehran, coupled with dangerous armed mobilization. Washington has sought NATO's help to build anti-Tehran coalition, which is not forthcoming and Mohammad Javad Zarif tweeted, "short war with Iran is an illusion". The new sanctions on Iran come with more toxicity from the U.S. side with threats of "complete obliteration" to Iran if it seeks war and more provocation. The Iranian president, however invited the U.S. to drop sanctions against Iran and return to a 2015 nuclear deal to de-escalate soaring tensions between the two countries. The return to the nuclear deal would be the shortest way to secure the interest of all sides, and also good for the world, the region and especially the international nuclear non-proliferation treaty.
At the same time, Iran is all set to withdraw from the treaty and breach the 2015 nuclear deal. Iran's atomic energy agency has said the country will probably exceed a cap on stockpiles of low grade uranium and could early next month raise enrichment purity beyond a 3.67% put in place to prevent Iran from making weapons grade material. Reuters reported Iran's Foreign Minister Mohammad Javad Zarif as stating that Iran breached the limit of its enriched uranium stockpile set in 2015, and also confirmed that Iran had gone over the relevant limit of 300 kg of uranium. Ali Vaez, a director at the International Crisis Group said, if the standoff continues and Iran becomes more defiant and provocative, European allies may also be forced into introducing sanctions, making the path to the new negotiations pass through a perilous nuclear standoff.
Trump reemphasized his resolve to never let Iran have a nuclear weapon, adding it was now up to Iran to negotiate. The new measures against Iran by the U.S. include blacklisting Iran's Foreign Minister, Mohammad Javad Zarif and extensive blockade of Iranian assets. The move came on top of actions taken by the administration this spring to cut off all revenues from Iranian oil exports, the lifeblood of the nation's economy. Tehran has accused Washington of "Economic Terrorism and Psychological Warfare". The new sanctions may be largely symbolic in nature with minimal impact, however Tehran's response was that the re-imposition and tightening of U.S. sanctions are not an alternative to war; they are war.
Response of the International Community 
The United States itself, Europe, even Saudi Arabia and the UAE have urged diplomatic solutions. Europeans do not want to declare Iran out of compliance. This would kill the deal and be deeply distressing for a continent already in conflict with the Trump administration over trade, climate change, military spending and multilateralism. Europeans have been reduced to calling for restraint and de-escalation while both Washington and Tehran seem set on raising tensions — risking a conflict that, by accident or design, could burn the Middle East and disrupt the world's energy supplies.
Peng Nian, a fellow at the Institute for China-America Studies, said that "Beijing was upset with Washington's pullout from the Iran nuclear deal. China's interests in the Middle East, such as the implementation of the Belt and Road Initiative in the Middle East and energy cooperation between China and Iran, would be undermined due to a deteriorated security situation". Willy Wo-Lop Lam, an adjunct professor at Chinese University of Hong Kong, said that "Beijing will maintain its line that the nuclear deal should be resumed." However, the Xi administration is unlikely to loudly contradict America's position, keeping its own interest in mind where it wants the U.S. to back off on the trade-war with China.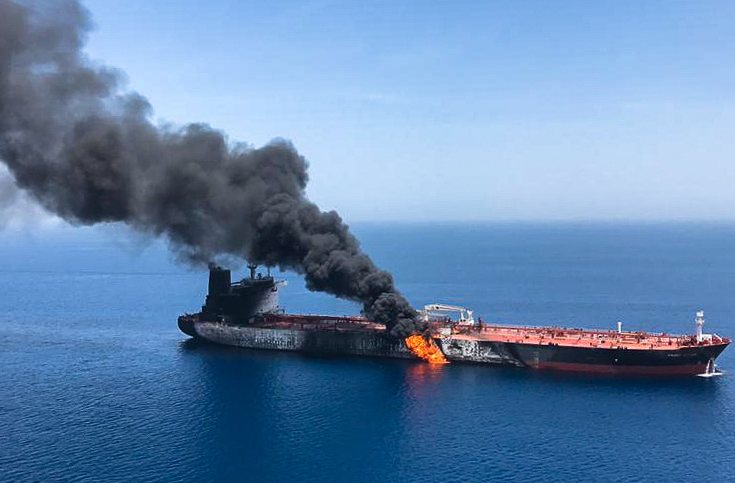 Russia has denounced the new sanctions on Iran as illegal and warns the U.S. to show restraint to avoid escalation of the conflict. President Putin has warned of "disaster" if the U.S. uses force against Iran. Sergei Ryabkov, the Deputy Foreign Minister of the Russian Federation, said the new sanctions would only further aggravate spiraling tensions and Washington should instead seek talks with Tehran.
Observers in the U.S. are also critical of Trump's policy on Iran and term it as confusing, sending mixed signals. However, Trump is categorical about his policy on Iran, being clear and a major shift from Obama's past policy. The two key components of this policy are no nuclear weapons for Iran and no further sponsoring of terror by Iran.
Trump is using his freedom from U.S. dependence on the Middle Eastern oil and does not want to act as the guarantor of open sea lanes in the gulf region. U.S. is extracting itself from its global role, again this endorses the mixed signal paradigm, but more importantly symbolic sanctions indicate that the Trump administration has very few options to squeeze Iran further. The narrative on the ground in Iran is also reflective of it, that "U.S. won't go to war, Iran will not negotiate". Critics are of the view that the new sanctions would have little substantive effect in restraining Iran and could further inflame tensions.
Robert Malley, the President and Chief Executive of the International Crisis Group and a former senior Obama administration official on Middle East, called Trump's latest move as symbolic politics at its worse, at every level it is illogical, counterproductive and useless.
President Trump moved to put new economic pressure on Iran in retaliation for what American officials have called "acts of aggression" which included attacks on two oil tankers, the Front Altair and the Kokuka Courageous in the Gulf of Oman near the Iranian coast, presumably by Iran's Islamic Revolutionary Guard Corps (IRGC). One of the ships, the Kokuka Courageous, is owned by the Japanese firm Kokuka Sangyo. The other, Front Altair, is Norwegian. The strikes followed a similar episode on May 12 and an attack on a Saudi pipeline in mid-May 2019. The global community condemns the attacks, but distances itself from squarely blaming Iran for it, for lack of evidence.
A Defiant Iran
With sanctions on Iran's supreme leader, Trump targets both a religious authority and an economic empire. Trump has also left the door open for talks, saying that Iran should speak to the United States "peacefully" to ease tensions and potentially lift U.S. economic sanctions.
Iranian Foreign Ministry spokesman Abbas Mousavi, said "Imposing useless sanctions on Iran's Supreme Leader and the commander of Iran's diplomacy is the permanent closure of the path of diplomacy."
Iran may be far weaker than the United States in terms of conventional military strength, but its ability to use asymmetric strategies against the enemy could allow it to inflict serious damage to U.S. interests in the region. Iran's military forces are far more formidable, there is simply no possibility that a war with the country would be anything other than a mess. At best, a short conflict would be a soft-power disaster that damages U.S.' international standing. But, more likely, the conflict would quickly become a new quagmire that will make U.S. involvement in Iraq and Afghanistan look simple by comparison.
If there is a war, the closure of the Strait of Hormuz would be a side show. Iran has a strong presence from the Northern tip to the Southern tip of the Persian Gulf. The oil, gas facilities and the oil tankers present in the sea lanes will become very vulnerable in case of an armed conflict. It will take decades to build back these assets. The international community will face an irreversible economic slowdown. The deep state in the United States understands this and also the limitations of the United States to follow up on the threat of war.
Impact on Pakistan
U.S. confrontation with Iran creates a foreign policy dilemma for Pakistan and makes it difficult for Pakistan to maintain a position of neutrality in the Tehran-Riyadh equation. Pakistan's relations with Riyadh have seen a revival. The PTI-led government reset relations with key partners like Saudi Arabia and the UAE. Prime Minister Imran Khan chose Saudi Arabia for his first foreign tour. He also attended an investment conference in Riyadh, to show Pakistan's "solidarity with the Kingdom in its efforts to become emerging hub of international business and investment".
Saudi Arabia bailed out Pakistan at the end of 2018, with an economic package. The package included $3bn balance of payments support and another $3bn in deferred payments on oil imports. Furthermore, Saudi Crown Prince's visit to Pakistan in February 2019 laid the foundation for a new chapter in Pakistan-Saudi relationship, marked by high level institutional framework to guide future direction of political, diplomatic, economic, investment, trade, people-to-people, defense, security and cultural aspects.
Prime Minister Imran Khan also visited Iran after the terrorist attack in Baluchistan, which revived the cold relationship between Pakistan and Iran. Both Islamabad and Tehran agreed to raise a quick reaction force to prevent cross-border infiltrations. These acts by the government showcase a desire to take a more explicitly neutral position in the Saudi-Iranian regional rivalry. If Pakistan is pressurized to take sides, the U.S.-Iran-Pakistan triangle may become explosive again. Historically, Pakistan has sustained this pressure well. It never formally took sides in the Iran-Iraq war and more recently resisted getting dragged into the Yemen war.
Washington's policy for Tehran may also pose problems for Pakistan's energy security. Nearly 90 percent of Pakistan's energy needs are dependent on crude and petroleum products imported from the Middle East. The U.S. sanctions regime can hinder Pakistan's acquisition of hydrocarbons from a global supplier of energy resources. It will also impede progress on the much-needed Iran-Pakistan gas pipeline, because the functioning of the multi-billion dollar Iran-Pakistan (IP) is also hostage to U.S. sanctions and there has been no progress on the project despite Pakistan's acute energy shortage. The IP gas pipeline project is virtually shelved now because of re-imposition of sanctions on Iran. Countries like Pakistan, India and Afghanistan face the risk of being caught in the U.S.-Iran crossfire.
Dr. Huma Baqai is the Associate Dean and an Associate Professor of Social Sciences and Liberal Arts at the Institute of Business Administration Karachi.