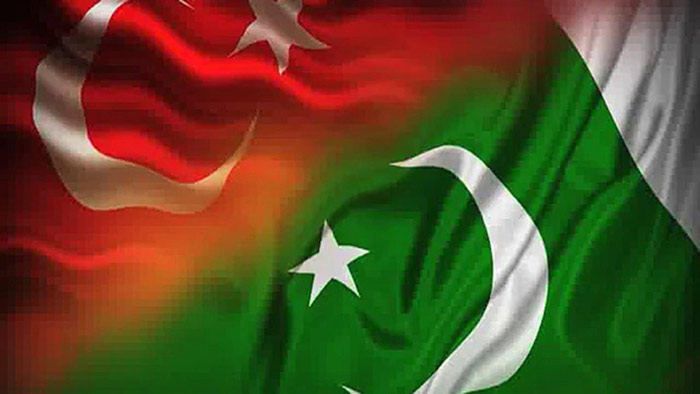 Rupert Stone
When Pakistan was placed on a terrorist financing "grey list" by the Financial Action Task Force in February, Turkey was the only country to oppose the move. Both Saudi Arabia and China – strong Pakistani allies – eventually supported the US-led effort to have Islamabad grey-listed. Acknowledging Ankara's loyalty, Pakistan's then interior minister, Ahsan Iqbal, tweeted, "Thank you Turkey for standing with Pakistan against all odds & proving that we are one. We are proud to have a brother like you." The Turkish ambassador in Pakistan replied, "Most welcome".
This episode encapsulates the warmth of the bond between Turkey and Pakistan. Their relationship has strengthened in recent years, especially in the security sphere. But the two countries share deep historical and religious ties. Turkic Muslim dynasties, such as the Mughals, ruled north India for centuries. The founder of Pakistan, Muhammad Ali Jinnah, admired Turkey's first president, Mustafa Kemal, who, like Jinnah, was a secularist and nation-builder. There are roads named after Kemal in Islamabad and Karachi, while in Turkey's capital Ankara, one of the largest streets is Cinnah Caddesi (Jinnah Avenue).
Moreover, there are striking parallels in the countries' postwar political trajectories. In both, the military has exerted a dominant influence and staged multiple coups (four apiece). Both have become increasingly religious, despite the secular inclinations of their respective founding fathers. Both have been nominal US allies for decades, while often maintaining strained relations with the 'West'. Indeed, Turkey and Pakistan have had to confront serious refugee and terrorist problems relating to their involvement in US-backed campaigns in Syria and Afghanistan respectively.
Their partnership with the US goes back to the Cold War when they both became part of the "Northern Tier" against Soviet expansion. Turkey joined NATO in 1952, while Pakistan started receiving US military aid in 1954. But their relations with Washington soured in the 1960s. Turkey was reprimanded by the US for its role in Cyprus, and Pakistan faced an American arms embargo during the 1965 war with India. Turkey, in response, gravitated towards the USSR, while Pakistan received help from China. They also grew closer to one another, forming the Regional Cooperation for Development (with Iran) in 1964.
Relations with Washington picked up again in the 1980s when both sided with America against the Soviet occupation of Afghanistan. After 9/11, cooperation on Afghanistan continued, with both Turkey and Pakistan supporting the US-led invasion of the country. In the last decade, Turkey has also tried to soothe tensions between Afghanistan and Pakistan, convening regular trilateral summits in Ankara to address issues such as refugees and the border dispute. The 2000s also saw increasing defence ties between Turkey and Pakistan, with new training initiatives and a High Level Cooperation Council set up in 2009.
Turkey's pious Muslim leader, Recep Tayyip Erdogan, clearly likes Pakistan. He has visited the country often and addressed its parliament three times, more than any other leader. He has strongly supported Pakistan against India in the Kashmir dispute (just as Pakistan backed Turkey over Cyprus) and opposed New Delhi's membership of the Nuclear Suppliers Group. There is affection, too, on the Pakistani side: General Musharraf (who grew up in Turkey and speaks fluent Turkish) was known to respect Mustafa Kemal; former prime minister Nawaz Sharif reportedly admired Erdogan for reining in the Turkish military.
The Turkey-Pakistan relationship is now entering a new phase, catalysed, once again, by tensions with the US. Turkey is furious with Washington for backing the Syrian Kurds, which are affiliated with Kurdish militants in its own territory. The US is concerned about Turkey's rapprochement with Russia, and also by its detention of American citizens suspected of subversive activities. Relations have nosedived under Trump, as the US imposed sanctions on Ankara for detaining an American pastor, and then slapped tariffs on Turkish exports, exacerbating the country's currency crisis.
Pakistan supported Turkey in its recent standoff with Washington. And well it might, as its own ties with the US have deteriorated. In 2011, a series of crises derailed the bilateral relationship. US aid has steadily declined so far this decade, culminating in Trump's suspension of all security assistance this year. To compensate, Pakistan has strengthened its alliance with China, which has now become Pakistan's main arms supplier, while forging an unlikely partnership with former Cold War adversary, Russia. Less widely reported, Islamabad has rapidly boosted its security relationship with Turkey.
Under Erdogan, Turkey has been pushing to produce its own military equipment and achieve "defence autarky" rather than rely on imports from the US and Europe, which have repeatedly blocked arms supplies (the US Congress is currently impeding the delivery of F-35 aircraft, for example). The Turkish government intends to achieve full self-sufficiency in the defence sphere by 2023. And, as the Turkish security sector has expanded, so, too, have its exports. According to a 2018 report by SIPRI, Turkish arms exports from 2013-2017 grew by a whopping 145% from the 2008-2012 period.
One of the markets where Turkish companies have been particularly active is Pakistan. In 2015, Turkey agreed to provide thirty four fighter aircraft. The following year, a deal was concluded to upgrade Pakistan's F-16 jets. Then, in 2018, came the largest ever defence contract between the two countries, with the sale of thirty ATAK helicopters. There have also been naval contracts: in 2016 a Turkish firm won a contract to upgrade three Pakistani attack submarines and, in 2018, Pakistan inked a deal for four corvettes. Moreover, April 2018 saw the first ever bilateral naval exercise between the two countries.
Turkey has now surpassed the US to become Pakistan's second biggest arms supplier, after China. And their relationship will likely get stronger, still, as both countries drift further away from the US and closer to Moscow. Turkey has confirmed it is purchasing the S-400 missile defence system from Russia, while Pakistan has just launched a new military training program with its old foe. Furthermore, Turkey and Pakistan see eye-to-eye on the need for a diplomatic settlement in Afghanistan. Turkey has agreed to allow a Taliban office in Ankara, and could use its leverage with the Afghan Uzbeks and Turkmen to facilitate peace talks.
But all is not rosy. The Turkish defence industry still relies on US-made components and may suffer if tensions with Trump escalate. Furthermore, economic ties between Ankara and Islamabad are weak. Trade is very low, hampered partly by Turkish tariffs imposed on Pakistani goods in 2011. Those tariffs caused Pakistan's exports to drop precipitously by 2017. Eager to rectify this situation, Pakistan has been trying to conclude a Free Trade Agreement with Ankara. But progress has been slow, and talks collapsed earlier this year, with Islamabad threatening action at the World Trade Organization.
As long as these roadblocks remain, Turkey will never be as close to Pakistan as China or Saudi Arabia, which both have strong economic relations with Islamabad.
Rupert Stone is an independent journalist based in Germany.