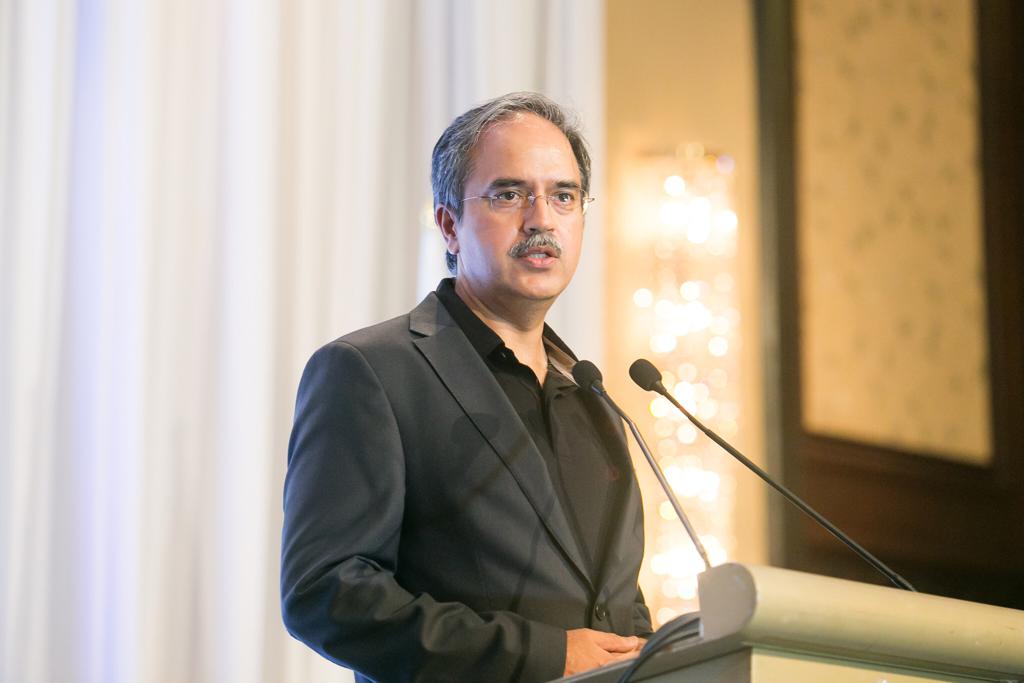 Amb. Asim Iftikhar Ahmad is Pakistan's Ambassador to the Kingdom of Thailand. A career diplomat, Amb. Asim Iftikhar has served at various important positions in the Foreign Office, Pakistan's Missions abroad  and the United Nations(UN). Amb. Asim served as Deputy Chef de Cabinet of the President of the 64th Session of the United Nations General Assembly (UNGA). He remained Pakistan's Political Coordinator to the United Nations Security Council (UNSC), and a counsellor in the Permanent Mission of Pakistan to the United Nations in New York. Pakistan Politico discussed the current dynamics and the likely future trajectory of Pakistan-Thailand relations, and Pakistan's potential to increase the scope of its relations with ASEAN.
Q:The South East Asian region has garnered little attention of the makers of Pakistan's foreign policy. How can Pakistan come up with a "Look East Policy" of its own and what are the avenues available in this regard?
I tend to view the situation differently. Comprising mostly developing and friendly countries, South East Asia has always been an important region in the context of Pakistan's foreign policy. Our relations with the countries in the region have grown and diversified progressively over the decades. While the immediate neighbourhood and the evolving geo-strategic environment would logically influence policy priorities, Pakistan has all along endeavoured to look beyond, and nurture regional and global partnerships based on reciprocity, mutual trust and benefit. This has also guided the advancement of our relationship with the South East Asian region. At the same time, the relationship is yet to fully blossom, I would say. Clearly, a more concerted multi-dimensional approach can exploit the vast potential of cooperation both at bilateral and regional levels. And I am confident that we are geared in that direction.
In fact our policy towards the region has been quite dynamic and responsive to the developments. Accordingly, the engagement and relationships have also undergone transformation over time. Together with Thailand and the Philippines, Pakistan was a member of the South East Asia Treaty Organization (SEATO) for example. Our friendly ties with the countries of the region enabled smooth and productive cooperation at the bilateral levels, as well as increasing collaboration at the regional and global fora. Relationships were strengthened in political, security, defence, development and economic fields. There were numerous high-level visits. In case of Thailand, the most memorable was the state visit of Their Majesties King Bhumibol Adulyadej (Late) and Queen Sirikit to Pakistan in 1962.
We were also able to steer and manage the relationship well during the period that saw an increasing trend of regional cooperation, and subsequently greater reliance on multilateralism especially in the post-Cold War scenario. The significance of the region was duly reflected in our foreign policy direction, as Pakistan was accorded Sectoral Dialogue Partner status by ASEAN in 1993. In 2003, Pakistan launched its 'Vision East Asia' policy to further develop commonalities and strategic connectivity with the region, with a focus on strengthening political, economic and cultural ties with ASEAN. Building on our efforts, Pakistan signed the Treaty of Amity and Cooperation with ASEAN the following year. Pakistan has also been an active member of the ASEAN Regional Forum (ARF) since 2004. These institutional arrangements also provided momentum for enhancement of relations with individual countries in the region in diverse fields.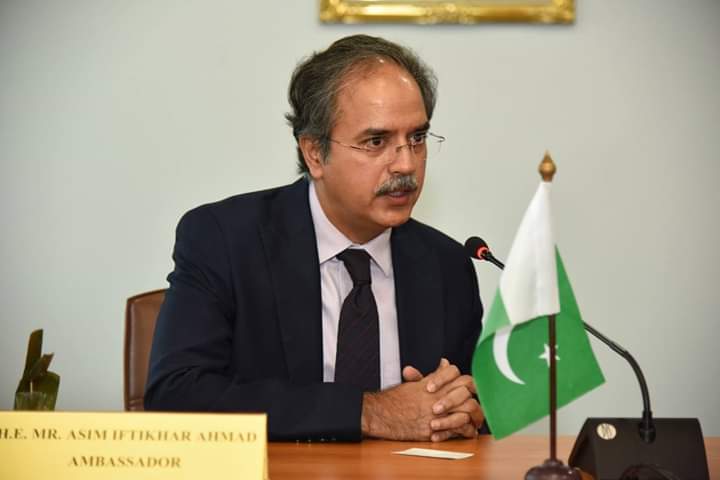 There is immense potential in trade and investment, culture and tourism, defence, and educational, scientific and technological cooperation. We are enhancing existing relations and building new linkages in these and many other fields. Historical, religious and cultural affinities also bring our peoples together. Apart from UN, Pakistan and ASEAN countries work together in several regional and cross-regional organizations such as the Non-Aligned Movement (NAM), Asia Cooperation Dialogue (ACD), Asia Europe Meeting (ASEM) and the Organization of Islamic Cooperation (OIC). Meanwhile, Pakistan's pursuit of Full Dialogue Partnership with ASEAN remains a priority, and for which there is consistent and strong support from within the ASEAN membership.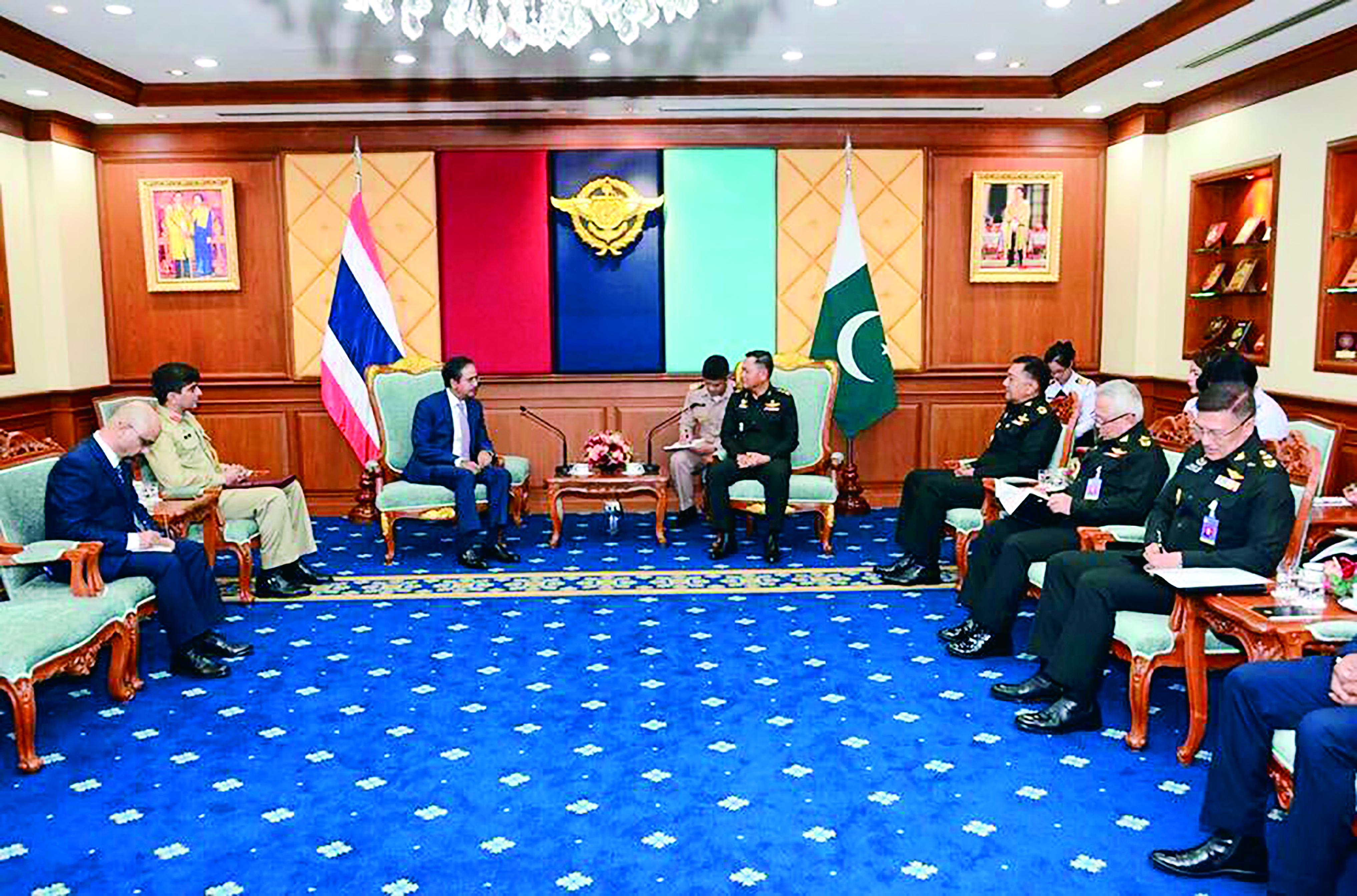 Notably, Pakistan has strong diplomatic presence in the region, having Embassies in 9 out of 10 ASEAN countries. ASEAN members are also well represented in Islamabad. There have been important high level visits in recent times including Prime Minister Imran Khan's visit to Malaysia in November and Indonesian President Joko Widodo's visit to Pakistan in January last year.
Relations with Thailand have also grown from strength to strength. Bilateral trade has grown steadily. A Free Trade Agreement is currently being negotiated with Thailand. More people from Thailand and the region are visiting Pakistan, which apart from its scenic tourist destinations, cultural and historic attractions, is also home to the rich Buddhist heritage that flourished in Gandhara and is of great interest to followers of Buddhism around the world. Cooperation in the field of defence and security has also expanded, and a bilateral agreement is close to conclusion.
2019 is a special year for Thailand with the royal coronation of His Majesty King Maha Vajiralongkorn to take place on 4-6 May. This will be an occasion manifesting great joy, pride and unity among the Thai people, fully shared by the people of Pakistan. Besides the anticipated general elections, Thailand is also holding the rotating chair of ASEAN for 2019, thereby having a unique opportunity to lead ASEAN in enhancing partnerships across the regions. Pakistan sees itself as a natural partner of ASEAN with mutually reinforcing interests in peace, development and prosperity, and having a better understanding and appreciation of the intrinsic values and principles ASEAN stands for.
Q: Inter-state rivalries have changed their dimensions and nature significantly. Geopolitics now greatly features geo economic imperatives. Does it affect the profile of the ever-burgeoning ASEAN Economic Community (AEC)? Does it necessitate Pakistan's renewed and accelerated focus towards ASEAN?
Recalibration of our policy to incorporate 'Vision East Asia' was in fact in response to the geo-economic considerations among other factors. The rise of ASEAN as a vibrant integrated region and an economic powerhouse is reason enough for continued focus and resolute action with regard to promoting our objectives in this part of the globe.
ASEAN, comprising over 600 million people, is currently the 6th largest economy of the world. The region has achieved tremendous growth over 5 decades registering 33 times increase in per capita income from 122 US$ to 4000 US$ from 1967 to 2017. An environment of peace and stability that attracts investment, business development and tourism, in turn backed by cultural diversity and openness, has facilitated this growth. There has also been an effort to take along the relatively less developed countries of the region on the economic path. This in turn has helped the overall growth rate of ASEAN. While income inequality remains a challenge, the economic prospects are bright. ASEAN's own priorities are focused on enhancing trade and investment within the region, and with major partners including China, Japan, U.S. and EU. ASEAN members are also naturally worried about the possible consequences of the U.S.-China trade war.
As for Pakistan, the Vision East Asia policy remains relevant and all the more crucial in the context of diversifying our economic partnerships and export markets. That ASEAN in general and Thailand in particular historically tend to navigate clear of the geo-political rivalries, is another solid reason to invest more effort and resources in promoting trade and investment cooperation with this region. The existing Preferential Trade Agreements with Indonesia and Malaysia, and the FTA with Thailand in the making, will serve as the steppingstone for an eventual FTA with ASEAN as a whole.
Q:The Government of Pakistan under the leadership of Prime Minister Imran Khan wants to resuscitate the economy by attracting Foreign Direct Investment and augmenting exports. What opportunities are in the offing for Pakistan in both these areas if it strengthens its ties with the ASEAN Economic Community (AEC)?
Pakistan recognizes the significance of ASEAN region as an export destination. ASEAN's annual exports in 2017 crossed US$ 1.2 trillion, while imports were over US$ 1.3 trillion, making it a highly important trading bloc. At present, Pakistan's trade with ASEAN countries is heavily tilted towards the latter, with imports of US$ 6.3 billion during 2017 as compared to exports of only US$ 975 million. Major imports from ASEAN countries include edible oil, automobiles, mineral oils, machinery, electrical equipment, plastics and rubbers, whereas major exports constitute fishery products, textile, cereals, leather, beverages, paper, pharmaceutical products, fruits and meat. High volume of imports and comparatively strong purchasing power in several ASEAN countries offer great potential to increase Pakistan's exports to this region. It was in this context that we organized the first ever Single Country Exhibition of Pakistan in the ASEAN region in Bangkok from 13-15 July 2018. The Exhibition also featured seminars on Investment, Gems and Jewellery, Fishery and Tourism. Considering the success of this Exhibition, and in view of Thailand's ideal location in ASEAN, Pakistan will be organizing similar events in future, besides enhancing participation of Pakistani companies in international trade fairs in Thailand for greater outreach to Thai and regional counterparts and trading houses.
Some countries in ASEAN like Thailand, Malaysia and Indonesia are experiencing rising cost of labour and production, obliging the manufacturing sector to look for feasible destinations abroad for investment and relocation. The special economic zones in Pakistan including those planned as part of the China-Pakistan Economic Corridor (CPEC) offer great opportunities to big concerns to consider Pakistan as a possible destination. With a huge agricultural base, vast untapped marine and mineral resources, and tremendous tourism potential, Pakistan is an attractive destination for investment in related sectors.
A notable investment from Thailand in Pakistan is by the CP Group, which they are expected to gradually expand. Some groups in auto industry and petro-chemicals are also exploring investment options. We expect more Thai business houses to consider investment in Pakistan as they venture across the immediate neighbourhood and undertake comparative analysis of investment opportunities. I would also encourage Pakistani business groups to look into investment options in Thailand.
Q:Thailand and Pakistan have enjoyed cordial ties since 1951. The trade volume between the two countries has also increased. Given the importance of Thailand in ASEAN and its likely linkage with China's Belt and Road Initiative (BRI), what is the potential for expanding Islamabad-Bangkok relations and taking them to the next level?
Yes, relations between Pakistan and Thailand have indeed been friendly and cooperative, based on mutual trust and understanding. The relationship has been consolidated over the years in various dimensions including political, defence, economic development, culture, tourism and trade. Both sides have repeatedly expressed their desire and commitment to take the relationship to a more strategic level. The economic potential of the two countries, political clout in regional and global multilateral fora, attachment to regional cooperation and connectivity, and above all our strategic locations in the respective regions, provide a strong basis for raising the partnership to a new level.
With a population of over 207 million, a large and growing middle class, upward economic trajectory and infrastructure development, Pakistan offers a huge market and an attractive investment environment. Our efforts are aimed at creating more awareness on both sides about the opportunities for cooperation.
Thailand's Eastern Economic Corridor (EEC) and our CPEC are major infrastructure and connectivity projects of similar nature, serving as the launching pads for our two countries' next level of development, while at the same time acting as the gateways to the respective regions. While CPEC is an integral part of the Belt and Road Initiative (BRI), EEC and other infrastructure projects in Thailand are also regarded as being in sync with the BRI in terms of bridging China and ASEAN. The development of Special Economic Zones in EEC and CPEC will have investment opportunities on both sides.
Meanwhile bilateral trade with Thailand has increased rapidly during recent years and has reached US$ 1.68 billion during 2018. The balance is skewed in favour of Thailand with exports worth US$ 1.48 billion as compared to Pakistan's exports to Thailand amounting to US$ 206 million which in itself is the highest figure ever. Having registered an increase of 23% during 2017 and 40% during 2018, there is strong potential to enhance our exports further through introduction of our products in Thai market, frequent exchange of trade delegations and confidence building measures. Opportunities of investment on both sides taking into account multiple factors like availability of raw materials, skilled and economical labour, investment incentives, consumer market and proximity to major export markets, can also help reduce the bilateral trade gap, while bringing the business communities and the people of both countries closer, including through increased two-way tourism.
Q: What further prospects do you see in Pak-Thai defence ties, especially in the areas of arms sales? Tell us something about Thailand's interest in the recently-concluded IDEAS Expo 2018.
Defence, security and intelligence relations have been strengthened in recent years. There is ongoing cooperation between the respective armed services under various institutional, dialogue and training mechanisms. The new Memorandum on Defence Cooperation will provide an overall framework that will further enhance the defence ties. Pakistan is also sharing its experience with Thailand as a top troop contributor for UN peacekeeping. Both sides are committed to further enhance the relationship, including through exchange of high-level visits.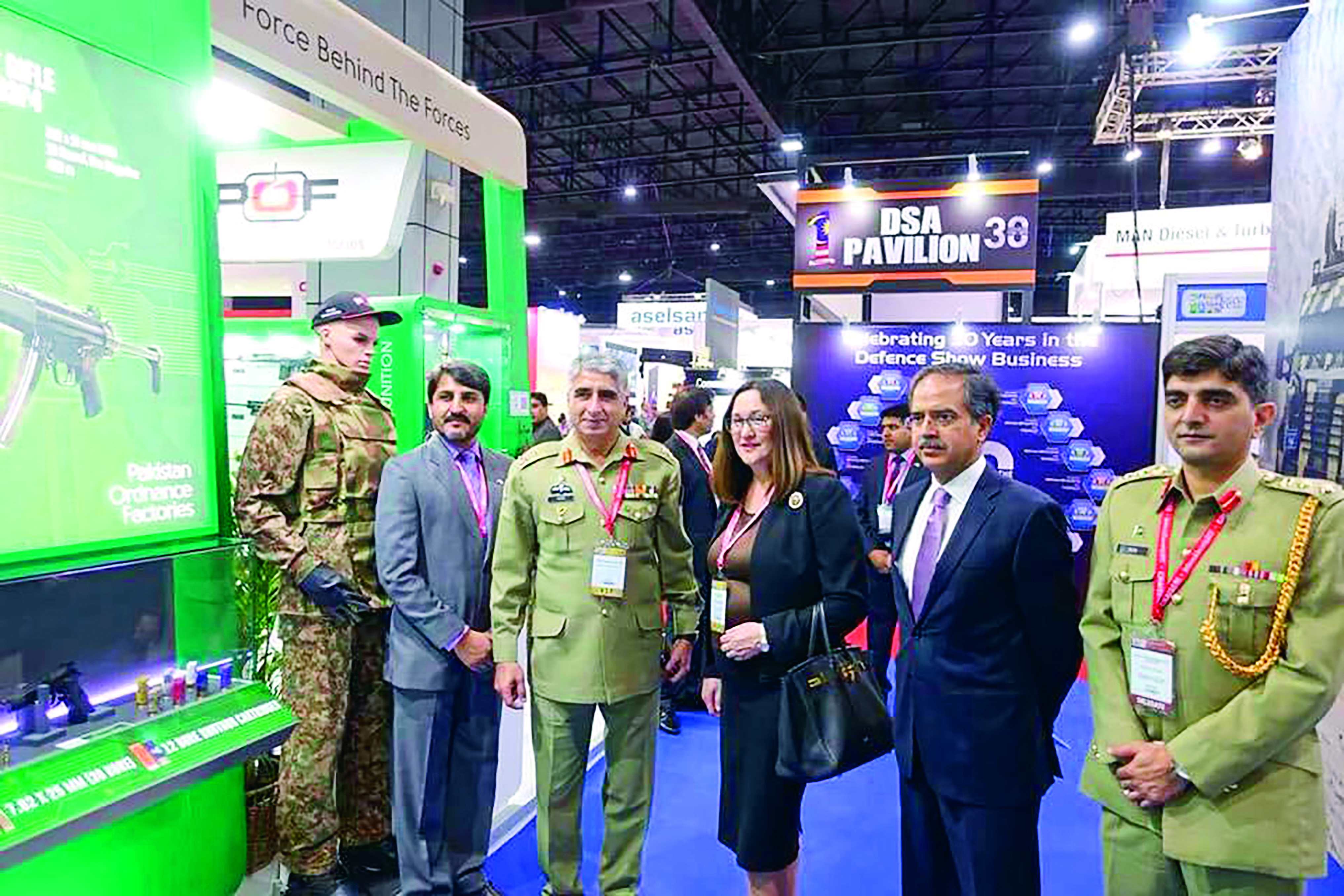 Thailand has participated in all editions of IDEAS. Three Thai delegations from Ministry of Defence, Defence Industry and Royal Thai Navy took part in IDEAS 2018 indicating the level of their interest. The Pakistan Ordnance Factory  (POF) is exporting different types of ammunition to Thailand including artillery ammo, fuses and propellants.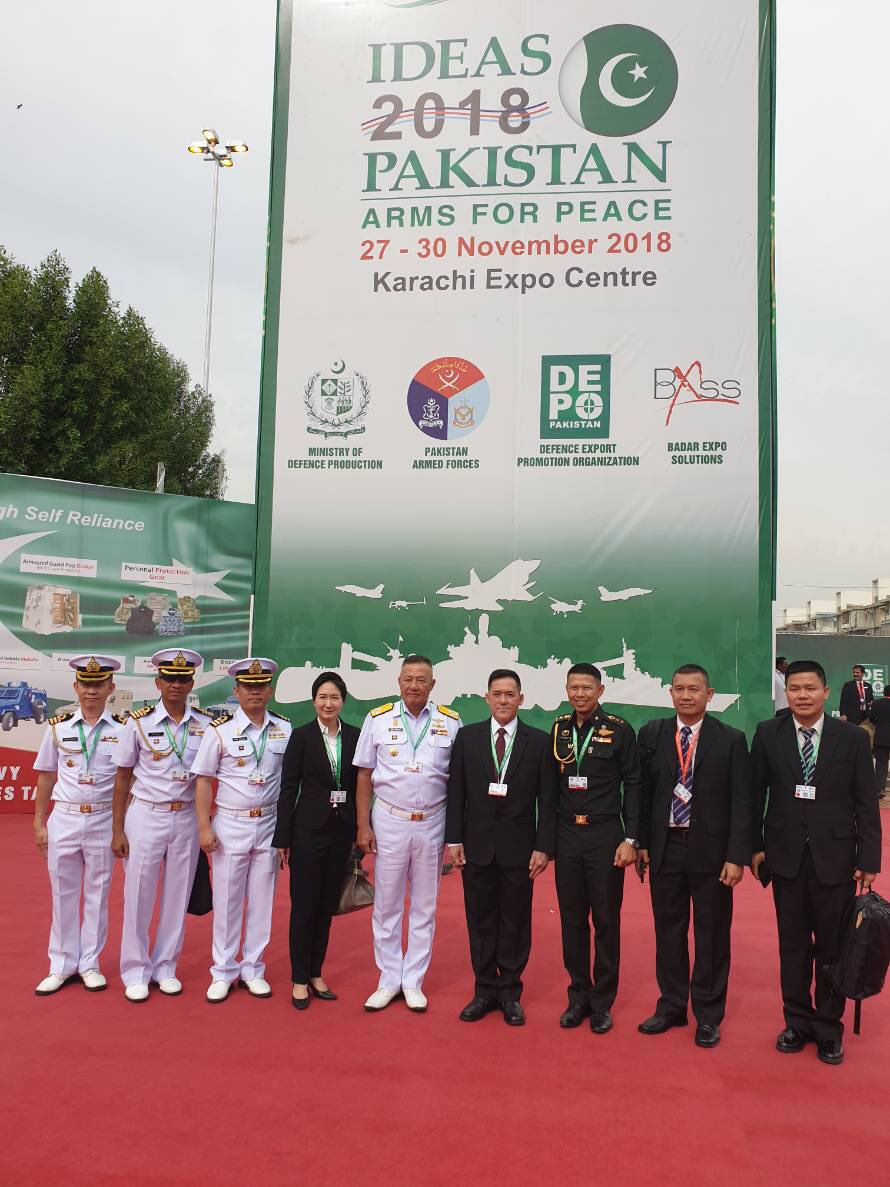 Pakistan participated in the 2017 edition of Thai Defence and Security Exhibition. For the next edition, we are planning a bigger pavilion showcasing Pakistan Ordnance Factory (POF), National Radio and Telecommunication Corporation (NRTC), Heavy Industries Taxila (HIT) and Pakistan Aeronautical Complex (PAC) products. Thai defence industry has shown interest in joint ventures, including transfer of technology, with our defence industries. Visits have been exchanged to each other's defence industries. We hope to see in coming years, increase in exports of POF products, and some concrete achievements in collaboration with other industries like HIT, NRTC and PAC.
Q: Pakistan's counter insurgency and counter terrorism credentials are well-established. Are there any chances of turning the Trisul exercise series into a cooperative mechanism whereby Pakistan could share its experiences and impart training to Thai forces?
Thai Armed Forces greatly value our contribution and success in counter-terrorism (CT), and have expressed the desire, at senior leadership level, to learn from our experience in CT. The inaugural Trisul joint exercise was held in Pakistan in 2017 and the second edition was held in 2018 in Thailand. This exercise has increased interoperability between the special forces of both countries. Thai Army is interested in undergoing CT courses in Pakistan. Thai delegation has visited our Counter Improvised Explosive Device (CIED) setups to understand how we have dealt with IEDs. They have also visited the National Counter-Terrorism Center (NCTC), Pabbi. Our Defence Attaché has given talks on CT at Thai institutions. Thai Staff College has also shown interest in sending its instructors to our Staff College during the CT module of the course. Many proposals are in the pipeline to strengthen cooperation in CT.