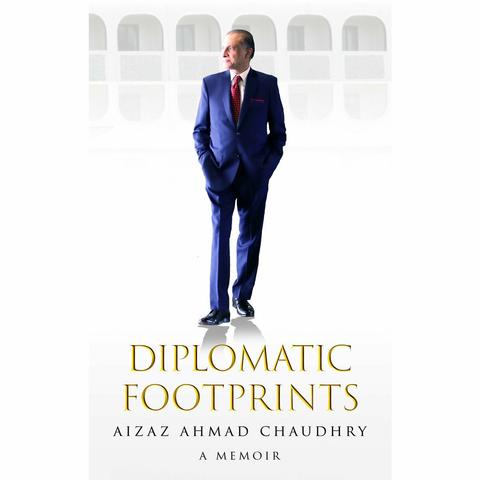 Diplomatic Footprints
Author: Aizaz Ahmad Chaudhary
ISBN: 978-969-35-3368-2
Publisher: Sang-e-Meel Publications
Syed Ali Zia Jaffery
In his voluminous book entitled 'Neither a Hawk Nor a Dove', one of Pakistan's most influential foreign policy practitioners, Khurshid Mahmud Kasuri, dedicates a full chapter to discussing the role and workings of the country's Foreign Office. While appreciating the exceptional skills of Pakistani diplomats, Kasuri contends that, "the work of the Foreign Office is indispensable for the protection, promotion, and projection of Pakistan's national interests abroad on a number of vital issues pertaining to security and economy." Kasuri's words are instructive, not least because he was Pakistan's top diplomat at a time when it was not only partnering the United States in the War on Terror but also trying to resuscitate and revitalize efforts to resolve the longstanding Kashmir dispute with archrival India. Certainly, Pakistani diplomats, braving many an odd, have assiduously and convincingly fought Pakistan's case at global fora. The country's diplomatic corps must be credited with conducting what Ambassador Jamsheed Marker called "Quiet Diplomacy" as well as aggressively extricating Pakistan out of troubles from seemingly unsurmountable situations. Though Pakistan's foreign policy has elicited attention of the academic and policymaking communities across the world, the body of works is not rich enough to explain its dynamics in totality. A dearth of academic works on Pakistan's foreign policy has added another chink in the country's armor, for many myths regarding it have not been debunked.
That Pakistan is located in a strategically significant position and a tough neighborhood is reason enough to argue that both opportunities and challenges abound for the country. What's more, Pakistan has had to bear the brunt of events that it could not have shaped or controlled, for that matter. All this translates into a set of intricate foreign policy impediments that Pakistan has had to navigate. In his recently-published memoir entitled 'Diplomatic Footprints', Pakistan's former Foreign Secretary, Ambassador Aizaz Ahmad Chaudhary, sheds light on some of those, by taking readers through how he saw and conducted Pakistan's foreign policy in his four-decade-long career. He identifies seven areas where Pakistan's foreign policy has been challenged and critiqued. Bringing his vast practitioner's experience into play, Aizaz ably dispels the impression that the Foreign Ministry has little to no say in making Pakistan's foreign policy. Reminding readers how taking inputs from stakeholders, including but not limited to the Central Intelligence Agency (CIA) and the Pentagon, is critical to making foreign policy in the United States, Aizaz convincingly argues that making foreign policy does not necessarily fall in the exclusive ambit of the Foreign Ministry. Observing the shifting sands of diplomacy as well as the growing, inexorable connections between security, economic, and foreign policies, Aizaz rightly notes that, "given the complexity of the geo-politics, and increasingly interwoven nature of foreign and security policies as well as internal and external policies, it is an advantage if all relevant stakeholders across the board provide their inputs and have a say in the decisions that shape our foreign policy."
The import of taking into account the views and apprehensions of other stakeholders can be assessed simply by looking back at both successes and failures of Pakistan's policy choices and approaches during crises. For instance, one of the reasons as to why the Kargil conflict turned into a fiasco was that institutions that were supposed to bat for Pakistan were not kept in the loop. A rather brilliant military plan at the tactical level was unable to produce results at the operational and strategic levels, simply because important stakeholders were not consulted when it mattered the most. Aizaz recounts how secrecy and utter lack of coordination during the two-month-long Kargil conflict made it mighty difficult for Pakistani diplomats to confront officials in Washington, something which hurt Pakistan in more ways than one. On the contrary, some two decades later, Prime Minister Imran Khan shaped Pakistan's resolute, responsible, and restrained crisis behavior in the Pulwama-Balakot Crisis, primarily because the political leadership, the military, and the diplomatic corps garnered strength from each other's expertise and authority. Decision-making was swift because intelligence was disseminated quickly, officials were briefed, and the country's military objectives were commensurate with the broader politico-strategic ones. Unlike during the Kargil conflict, Pakistani diplomats knew the nature and dynamics of the Pulwama-Balakot Crisis full well. The resultant coordination enabled Pakistan to streamline its crisis behavior and engage in effective crisis and post-crisis diplomacy.
Aizaz adroitly articulates his response to criticisms on the influence of foreign powers on Pakistan's foreign policy decision-making. As one of the country's former Foreign Secretaries, Aizaz is ideally-suited to add nuance to the discourse which, unfortunately, is marred by emotions and the proclivity to not look beyond binaries. Aizaz is on the money in enunciating that foreign powers can exercise agency and exert influence only if and when Pakistan lets them do so. He stresses that, "if our leadership puts its foot down on critical issues of national interest, I have observed that foreign powers adjust and adapt their approach accordingly." Further, Aizaz highlights how imperative it is to muster internal strength and unity, with a view to dealing with threats and challenges on the external front. One cannot agree more with the veteran diplomat on this count. It was Pakistan's singular focus on getting a nuclear deterrent, coupled with exemplary unity among the ranks, that made it cross many a hurdle and bare its teeth. In her book 'The Blind Eye', acknowledging the contributions of Pakistani officials towards the development of the country's nuclear deterrent, Rabia Akhtar argues that nobody in the Pakistani officialdom, civil and military, compromised on the country's nuclear program.
Aizaz then looks at Pakistan's evolving India conundrum. For someone who has seen the policy implications of India's growing brazenness under its premier Narendra Modi, Aizaz is a tad too optimistic about the prospect of eventual peace between the two countries. That said, his expressing disappointment on both countries not having capitalized on the backchannel on Kashmir is but an admission that there is little room for meaningful, substantive discussions with India. Aizaz is rightly cognizant of the ramifications of the rise of religious fundamentalism within the Indian polity. The India that Pakistan is dealing with today is different and dangerous. Its revisionist tendencies will germinate a package of troubles for Pakistan and the entire region. Pakistan's western periphery would remain a preferred target for India. An unstable Afghanistan, according to Aizaz, is a perpetual source of turmoil for Pakistan. Thus, India will try tooth and nail to scuttle initiatives that promise to put Pakistan's western neighbor on the path towards peace, not least because such an eventuality will help the latter achieve its geoeconomic goals.
Aizaz correctly identifies India's military modernization as one of the biggest threats to peace on the Subcontinent. Also, Aizaz fittingly narrates and contextualizes Pakistan's nuclear excursion, arguing that India's quest for dominance and willingness to use force under a nuclear umbrella leaves his country with no choice but to strengthen its deterrent. As someone who has closely dealt with nuclear issues at multiple levels, Aizaz's focus on the nuclear dimensions of Pakistan's foreign policy predicaments is noteworthy. The nuclear factor could come back to the fore as a major irritant in Pakistan's relations with the U.S. and other major powers at the bilateral and multilateral levels. While India's developments in the conventional and nuclear domains will be turned a blind eye to because of its perceived strategic utility in countering China, Pakistan's countermeasures will be deemed destabilizing for the region. It would be reasonable to argue that Pakistan must prepare for a major diplomatic onslaught, with a view to forestalling mendacious propaganda relating to its nuclear program.
As the book brings to light, Aizaz and all Pakistani diplomats have tried to improve Pakistan's international image, which has been distorted by a combination of factors, including but not limited to the scathing disinformation campaign launched by India. Aizaz compellingly argues that public diplomacy and using the power of the Pakistani diaspora are critical to changing the country's image. Aizaz was instrumental in getting the ball rolling in both these areas. However, as the author admits, a lot needs to be done to fully embrace public diplomacy and diaspora engagement as vital cogs in Pakistan's diplomatic repertoire. Indeed, in addition to all this, strategic communications and linkages between academic, policymaking, and think tank communities are but essential. Aizaz makes a mention of all this. In fact, Aizaz succinctly talks about the steps that he has taken, to make the Institute of Strategic Studies Islamabad (ISSI) more research-intensive, with a view to ensuring that it produces policy-relevant output.
As Aizaz concedes, the plethora of foreign policy challenges have increased the importance of bringing in more dynamism and ingenuity in the conduct of diplomacy. However, assimilating new ideas and approaches can only be made easier if Pakistan shows a commitment to increasing institutional appetite for, and receptivity to, change. Reading Aizaz's book will help many out there understand why a stasis, especially in this day and age, will prove costly for Pakistan. As Pakistani policymakers look to explore pathways to bolster economic connectivity, and scholars ready themselves to study this highly-touted shift, books like this, penned by those that have been in the thick of things, will act as useful guides. Also, as aforementioned, practitioners' accounts like Aizaz's will help Pakistan set the record straight while also engendering scholarly attention and interest, something that will certainly add to the quality and diversity of academic works on Pakistan's foreign policy.
Syed Ali Zia Jaffery is Associate Editor, Pakistan Politico.