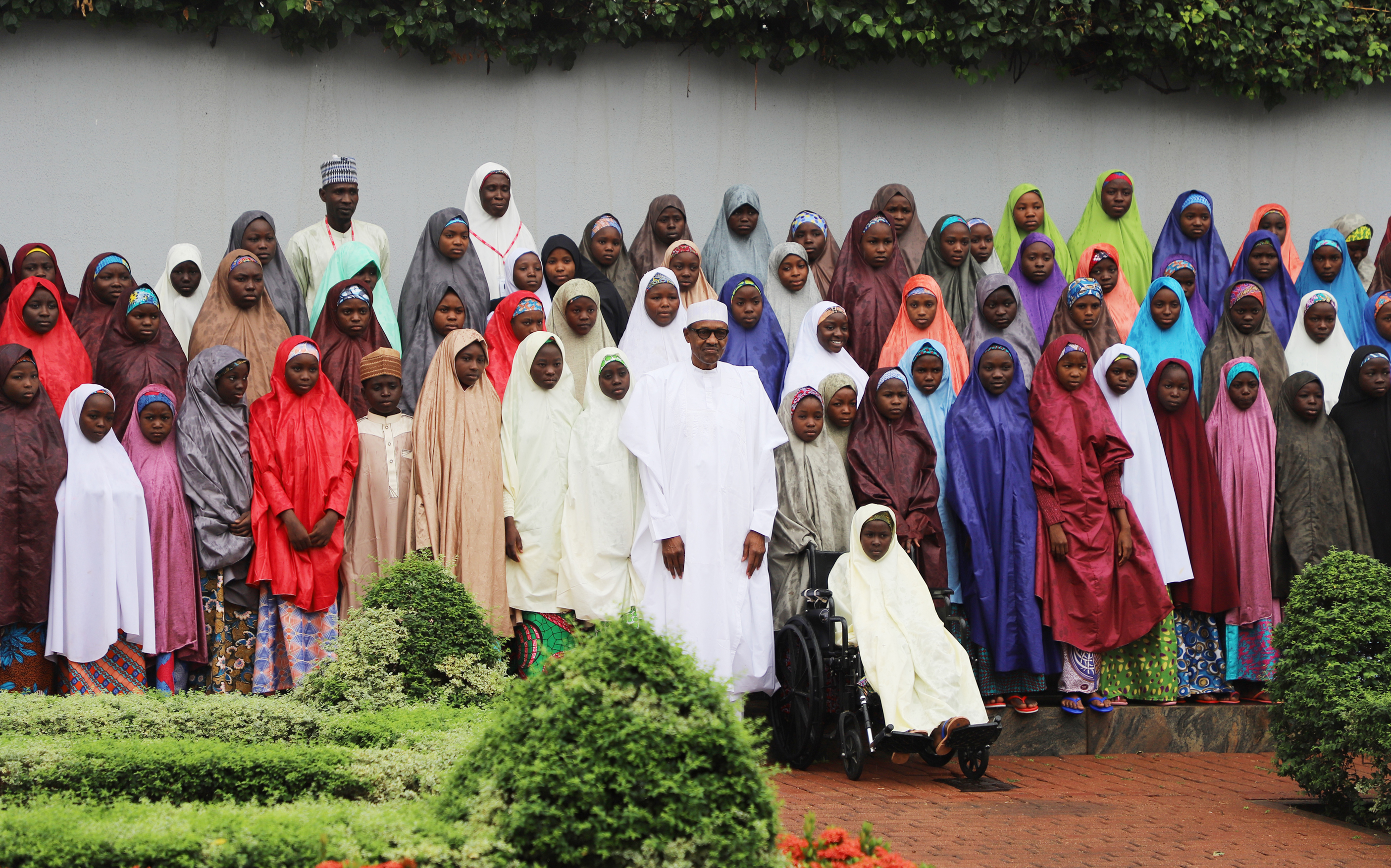 Muhammad Ali 
What is security? In general terms, security is defined very broadly. It is often classified into four distinct areas: political, economic, social, and environmental. Although, all the dimensions of security are important, economic dimension as a critical area needs urgent attention.
The security threats in the 21st century are threats to national, regional and global security. In Africa, the security threats pose difficult challenges. They range from the struggle to control mineral resources, under-development, poor governance, and the spread of religious fundamentalism and extremism or "Radical Islam" a term used in the western world. The threat from violent Islamic extremism is evident in Algeria, Mali, Kenya, Somalia, Niger, Nigeria, Mauritania and the Central Africa Republic.
Historical And Political Context
Since the advent of the fourth republic on 29th of May 1999, Nigeria with over four hundred (400) ethnic groups, belonging to several religious sects and seventy-two (72) registered political parties, has remained a multi-ethnic, multi-religious nation state. It is a nation grappling and trying to cope with the problem of ethnicity, ethno-religious conflicts and democracy. This is because over the years the phenomena of ethnicity and religious intolerance have led to recurrence of ethno-religious conflicts, which have given birth to many ethnic militias like the O'dua People's Congress (OPC); the Movement for the Actualization of the Sovereign State of Biafra (MASSOB), Movement for the Emancipation of the Niger Delta (MENDS).
The security problem or ethno-religious crisis in Nigeria is a manifestation of the emergence of political miscalculations and missed opportunities in the country. Nigerians are divided by language, culture and religion, which are supposed to be sources of strength rather than sources of conflicts. The struggle for political power and authority saw the emergence of internal conflicts and tensions, very often with negative consequences.
Many political analysts and social critics have alleged that, the demand for the distribution of public goods, services and political appointments or what is generally referred to as "federal character," which by the way is a constitutional requirement in appointments to public offices are responsible for the conflicts in Nigeria.
Politicians in Nigeria, and in some cases Africa, have capitalized on this to create problems that often degenerates into serious confrontation due to selfishness or the absence of credible leadership or both as exemplified by the recurring violent clashes in many parts of Nigeria.
The inter or intra ethnic and religious conflicts are the major sources of disagreement in Nigeria. For example, the infamous Reverend Bako crusade at the College of Education Kafanchan in 1987 that left hundreds dead, the Kano riots of 1991 with over 60 people killed, February 1992 Zangon Kataf riots 1 & 2 with over 1500 dead, 1993 Tafawa Balewa crisis recorded 540 deaths, 1999 OPC/ Hausa Community Yam Market crisis in which 2000 lives were lost, the Hausa/ Yoruba Shagamu crisis of July 1999 with more than 1700 people killed, the Kaduna anti-Sharia riots 1&2 in 2000 recorded over 1650 deaths, 2001 Jos inter communal clashes with over 1000 people confirmed dead, the massacre of over 1000 Muslims in the town of Yelwa in Shandam local government area of Plateau state in 2004 with a substantial number of Muslim women taken captive, the November 28th and 29th, 2008 communal crisis which had its roots in  the election of a local government Chairman which the then state Governor Jonah Jang  imposed on the people of Jos North local government claimed the lives of 632 Muslims.Over 1062 Muslim homes were completely burnt down, January 17th -22nd 2010 genocide in Jos North, Jos South and Barikin Ladi local government areas of Plateau state shows that insecurity in Nigeria has escalated.
All these conflicts represent a delicate fault line in the distribution of political appointments and services to communities while on the other hand it clearly shows the failure of government in its responsibilities to the governed.
Nigeria is a rich state and yet the level of unemployment, underemployment and human suffering with massive wastage of public resources and scandalous opulence by a select few has led to the fight against corruption. As President and Commander in Chief of the Armed Forces President Muhammadu Buhari (GCFR) has repeatedly admonished "we must kill corruption before corruption kills us."
On the other hand, ethnicity and religion can be effective tools (sources) of support for government (leadership). But sadly, these tools have been abused by opportunist in position of power and are making state security vulnerable and susceptible. The security projections and estimates have shifted repeatedly since the commencement of civil democratic rule in 1999. No progress has been made on a straight line. Security projections are no longer done with commitment to values and principles of intelligence but it is done to serve personal vested interest. This has created heightened public perception of the prevalence of insecurity in Nigeria.
External Influence
The policy of the United States of America, since the return to civil democratic rule in Nigeria in 1999, for the lack of a better word, has been former President Obasanjo centered. He is considered more like a great statesman, a savior of Nigeria who does no wrong, having behind him a strong team of former ambassadors, experts and lobbyist. Therefore, the problematic nature of external influences played a critical role in the 2003 and 2007 Nigerian Presidential elections. The anti-Taliban dominated National Security Council (NSC) members who were Obasanjo's allies successfully rebuffed any attempt to have any sensible policy towards Nigeria.
Immediately after the sad event of September 11, 2001, Ambassador Lyman focused his attention on Taliban, Al-Qaida and the Nigerian Muslim Organisations; the Muslim North propagating the possibility of a linkage between the Muslim Organisations in Northern Nigeria and the Taliban or Al-Qaida or both. The narrative was presented as a global fight against the larger interest of the United States, in a global Jihad. In the period 1999 to 2007 during the eight years Presidency of former President Olusegun Obasanjo, Northern Nigeria witnessed multiple ethno-religious conflicts which afforded Ambassador Layman ample opportunity to come up with several write-ups of predictions and speculations for external linkage and possible collaboration between Northern Nigeria Muslim Organisations and the larger Muslim Jihadists Movements.
These and many events in and around the government of former President Olusegun Obasanjo and former President Goodluck Jonathan coupled with the pronouncements of Jonathan's National Security Adviser, General Andrew Azazi made many Northern bureaucrats to ask what went wrong and begin to suspect Obasanjo's intention towards Northern Nigeria. Through several international intrigues, Nigeria was pulled into by former President Goodluck Jonathan's Security Adviser Adrew Azazi and the result today is the violent extremism and killings of innocent lives by the group known as Boko Haram.
Boko Haram
It all started in 2002 as a revivalist or reformist religious movement fondly referred to by locals as "the Yusufiyya Movement" while the leader and his followers called it "JAMAATU AHALAL SUNNA LIL DAAWATI WALJIHAD." Its motive was to establish an "Islamic Caliphate" under the leadership of a little known scholar with no known history of western education by the name Mohammed Yusuf whose father was a follower of the heretic Muhammadu Marwa Maitatsine who in December 1980 took Kano by storm resulting in the death of thousands of people before the military crushed his anti-establishment rebellion.
Muhammad Yusuf from all indications was bent on resurrecting the teachings of Maitatsini by urging Muslims to abstain from western education, reject working in any government establishment and embrace "Islam only". Western education in their opinion is forbidden hence the acronym "Boko Haram" but this is in total contravention of the true teachings of Islam since Islam is an intellectual tradition and a social movement. Various scholars of repute have tried unsuccessfully to convince Yusuf to accept the fact that western education is not forbidden but to no avail.
This position taken by Yusuf has drawn him a lot of followership particularly from amongst Borno's rural population; largely uneducated, unemployed and poor. As the movement continues to wax stronger in Borno, his headquarter, branches were opened by his trusted allies in Adamawa, Bauchi, Yobe, Kaduna and Kano states. Suddenly, politicians began exploiting the group for electoral gains. The Borno State Government of the time under the leadership of Governor Ali Madu Sheriff (2003-2007) thought it convenient to fraternize with Mohammed Yusuf giving support in cash and kind in return for the support of Yusuf's congregation to the All Nigeria Peoples Party (ANPP) controlled by State Government of Senator Ali Madu Sheriff for a second term in office.
The arrangement succeeded as Sheriff won a second term in office as Governor of Borno State (2007-2011) and in return he appointed Yusuf's close confidant and father in-law Hajji Buji Foi as Commissioner for Religious Affairs in his cabinet with the understanding that Sharia Law would be implemented in Borno State. One year into the second tenure of Sheriff, it became clear to Mohammed Yusuf that Sheriff was not interested in implementing Sharia Law as agreed when seeking for their support.
The failure to implement the Sharia law as agreed set Yusuf and his followers against the government of Borno State and the federal law enforcement agencies domiciled in the State, particularly members of the Nigeria Police Force whom they regarded as agents of oppression. This was the beginning of the end as Yusuf made a declaration to wage jihad against what he called the oppressive leadership of Madu Sheriff and to replace it with an Islamic model.
People who shared his ideology from across Northern States made it to Borno to be part of what later turned out to be the worst conflagration ever witnessed in Borno State or any state for that matter; the day set for the jihad declaration was 29th July 2009. Followers of Yusuf came from all over Northern Nigeria, some part of Niger Republic, Chad and Cameroon. They fought the establishment and, in the process people were killed in  thousands; women, children, the aged, the disabled and a handful of security operatives also died in the conflict. Members of the Nigeria Police Force were later accused of extra judicial killings by both domestic and international observers.
Mohammed Yusuf was captured alive by members of the Nigeria Army and handed over to the Police who in turn took him to the Governor. Governor Ali Madu Sherif (as he then was) ordered that Yusuf be killed and the police swiftly carried out the order which also included Hajji Buji Foi, thereby destroying the chance to obtain any evidence as to the sponsors of Boko Haram in Nigeria and their foreign collaborators. The killing of these two leaders is what gave birth to the open confrontation between federal troops and members of Boko Haram who are heavily armed. The fighting persists 9 years after.
This in a nut shell was the beginning of the insurgency by Boko Haram in North East Nigeria which has claimed over 25,000 lives to date with mass displacement of people, villages and large settlements to a point that by 2014, Boko Haram was in control of over 24 local government areas in Borno, Adamawa and Yobe States coupled with the abduction of the 219 Chibok Government Girls Secondary School students in Borno State on 14th April 2014. It is believed that Boko Haram is getting Intel assistance from senior Nigerian intelligence officials. To these officials, this is a means to an end.
For two years, nothing was heard of the 219 school girls until May 2016 when an Army backed Civilian Joint Task Force (CJTF) found one girl with a child inside Sambisa forest close to the Nigerian border with Cameroon. Two others escaped in September 2016 and January 2017. In October 2016, the International Committee of the Red Cross and the Swiss Government brokered negotiation between the Nigerian Government and Boko Haram led to the release of 21 girls and in May 2017 another batch of 82 girls were released.
The Nigerian Army's continued sloth on the insurgents has decimated Boko Haram but pockets of them are still around and are routinely waging attacks. On 19th February 2018, a group of Boko Haram insurgents stormed the Government Girls Science and Technical College Dapchi Yobe State and abducted 110 girls in what can be described as failure of intelligence on the part of the security agencies. Dapchi is next to the second strong hold of Boko Haram a town called Kanamma and the withdrawal of troops deployed to guard the bridge that links Dapchi to Kanamma without providing adequate contingency was to say the least reckless. On 21st March 2018, exactly one month after the Dapchi abduction, 104 girls were returned based on interest based negotiation, 5 have died in captivity due to what one of the freed girls described as exhaustion and trauma while one Leah Sharibu is still being held on the grounds that she being the only Christian amongst them must accept Islam which she declined.
Displacement Of Communities
What followed in the wake of Boko Haram insurgency was the displacement of people from their villages, communities and towns in their thousands. This has added to the already fragmented security situation the North-East finds itself in following the raging attacks by Boko Haram insurgents and their female suicide bombers whom findings revealed were acting under the influence of drugs and not the teachings of Islam as they want us to believe.
The new administration of President Muhammadu Buhari (GCFR) vowed to end Boko Haram insurgency. It designed and perfected a new approach to the war on insurgency by directing that the Tactical Command Centre of the Army be moved to Maiduguri. This was complied with as the Army under a new leadership led by Lt Gen Tukur Yusuf Buratai was reinvigorated, alive and active. In no time, they conquered and returned all the local government areas under the control of Boko Haram back to the fold of the State.
While the act of insurgency has been decimated, the major challenge to resettlement is corruption. There are recorded cases of officials entrusted with the management of the IDP camps diverting food and other essential items meant for the refugees into market places and sold off. This attitude of some of the officials has continued to cause hardship in the camps.
Nigeria's Counter Terrorism Antecedent 
Since the year 2008 when the insurgent group Boko Haram started gaining momentum, an assessment of the steadily rising threats posed by the group in North Eastern Nigeria should have been made with precision and carefully managed based on cultural and traditional values. The Boko haram insurgents just like the Niger Delta Militants were dissatisfied and agitated with the dysfunctional and corrupt administrations of former President Olusegun Obasanjo  to former President Goodluck Jonathan. It is not about establishing an Islamic Caliphate; it is about the interest of certain people in government including former Presidents Olusegun Obasanjo and Goodluck Jonathan.
Just after the 1st October 2010 bombing at the Eagle Square, Abuja during the Independence Day commemoration, President Good Luck Jonathan had told the nation that there are elements loyal to Boko Haram in his government. It was not surprising, what was surprising was the inability of his administration to mention who they are or steps his administration intends to take against them.
There are no real interests to control the activities of Boko Haram because of the vested interests of certain foreign governments in collusion with their agents in the present administration and the country. Instead of using mediation at the onset, the government of the time misused its elements of national power against a purely civil uprising. Hence the crisis escalated with irreparable loss amongst innocent civil population including women and children. Contemporary threats in the form of insurgency or guerrilla war fare are difficult to predict because of the human factor and continuous scheming. Therefore, crime prevention experts are agreed that traditional law enforcement alone is not sufficient in the management of public safety.
The Way Forward
The best way to address cases of insecurity, religious extremism and violent clashes in Africa is to try and mitigate the underlying causes such as poverty, unemployment, ignorance, absence of social justice, political manipulation, corruption etc.
Governments in Africa should also stop paying lip service to issues of development and should seek to set up task forces to critically look at the education sector in respective countries. The following areas need serious attention:
Curriculum Development
Financing
Resource use
Teaching and Learning
Early Childhood Education
Primary and Secondary Education
Vocational Training and Skills Development Center's
The Physically Challenged and Education
Tertiary Education
Global Education
Launch and sustain a strong Civic Education programme to halt polarisation of religion.
Reorganize the Nigerian Police Force to see itself as a partner to citizens in detecting and dealing with all forms of threats to public safety and security. This can be attained through proper re-orientation, funding, training and re-training in modern security technics and provision of functional working tools for the personnel.
The war on corruption should be pursued with vigor ensuring that all those found guilty including top security personnel and politicians face the full wrath of the law.
Create the right and enabling environment for job creation, placement and empowerment.
The 21st century continues to face serious national, regional, and global security challenges. Africa, and by extension, Nigeria faces dire security challenges. If Africa and Nigeria do not get their acts together, the future of the continent is bleak.
Boko Haram grew to be a major security challenge because it tapped into wide discontent with bad governance, corruption and official impunity. To tackle this, the federal and state governments must work together and develop comprehensive work plans to address not only the insecurity challenges in Africa but the agitations that fuel the insurgency, gang violence, rustling and identity fanaticism etc.
Finally, a clear departure from the politics of money and banditry which has produced ready recruits for all sorts of violence must be revisited and redefined for the purpose of a united and progressive Nigeria because to keep Nigeria one is a task that must be done. As such, there is a need for collaboration and partnerships across board to deal with national, regional and global insecurity in order to make the world a better and peaceful place.
Dr. Muhammad Ali is the Executive Director for Human Resource Development and Empowerment Initiative Kaduna. He is also Commandant Kaduna State Vigilance Service.