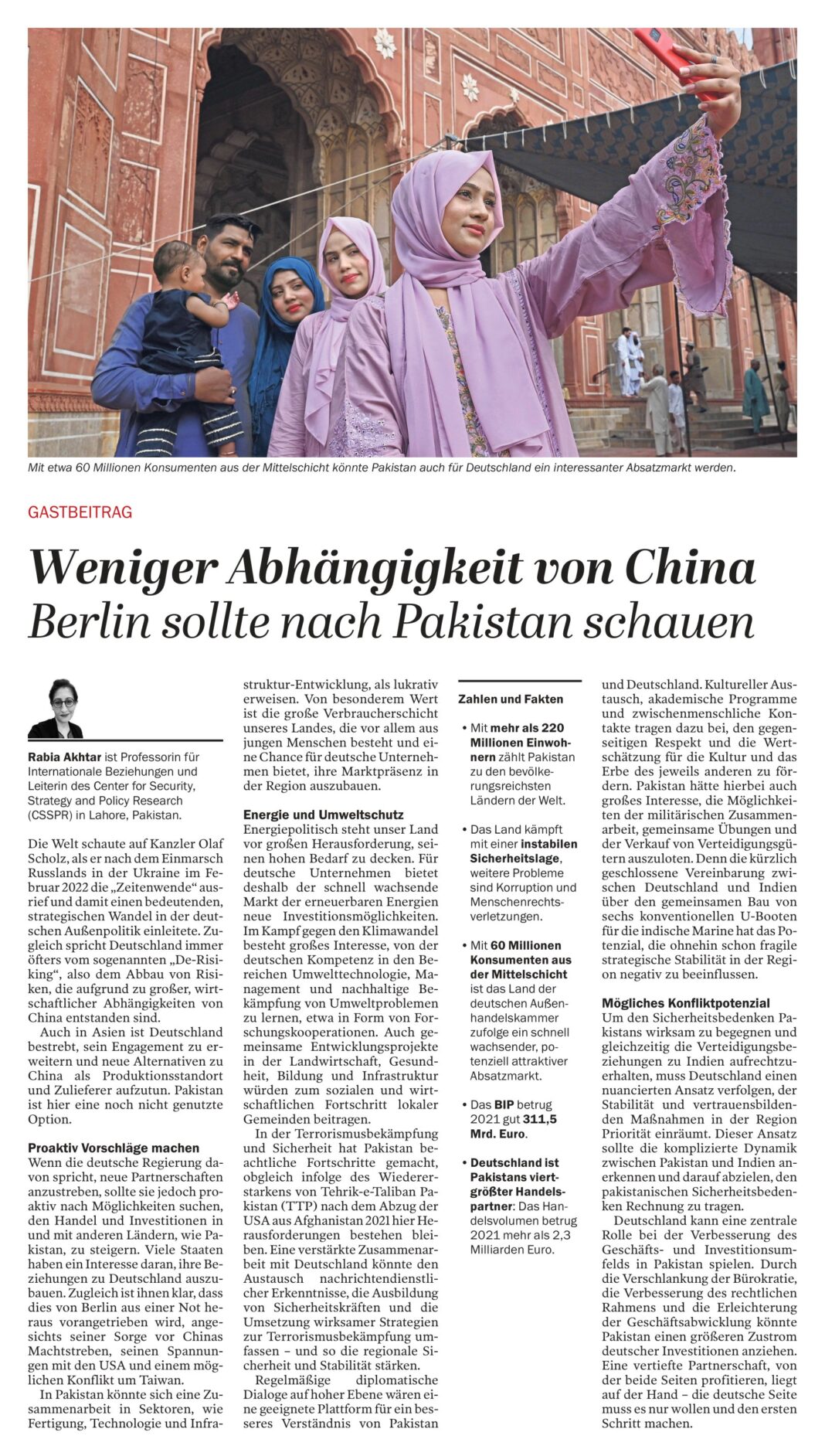 Rabia Akhtar, head of the Centre for Security, Strategy and Policy at the University of Lahore, explains exactly how.
(The article was originally published at Tagesspiegel: https://www.tagesspiegel.de/internationales/weniger-abhangigkeit-von-china-berlin-sollte-nach-pakistan-schauen-10107322.html)
The whole world looked to Chancellor Olaf Scholz when he proclaimed a "turn of the times" after Russia's invasion of Ukraine in February 2022, ushering in a major, strategic shift in German foreign policy. At the same time, Germany is increasingly talking about "de-risking", i.e. reducing risks that have arisen due to excessive economic dependencies on China.
Germany is therefore striving to expand its engagement in Asia, among other places, and to find new alternatives to China as a production location and supplier in the region. Pakistan is an option that has not yet been exploited.
Where cooperation makes sense
One recommendation at the outset: when Germany talks about seeking new partnerships, it should proactively look for opportunities to increase trade and investment in and with other countries, such as Pakistan. Many countries have an interest in expanding their relations with Germany. At the same time, they realise that this is being pushed by Berlin right now out of necessity, given its concerns about China's power ambitions, tensions with the US and the possible conflict over Taiwan.
In Pakistan, cooperation in sectors such as manufacturing, technology, renewable energy and infrastructure development would prove extremely lucrative. Of particular value is our country's large consumer base, consisting mainly of young people, which offers an opportunity for German companies to expand their market presence in the region.
Energy and environmental protection
Germany is known for its cutting-edge technology and sector-specific expertise. It thus has the potential to support Pakistan in strengthening its technological competencies, for example in the form of research and development cooperation. In terms of energy policy, our country faces major challenges to meet the high demand and offers German companies investment opportunities in the growing renewable energy market.
In the fight against climate change, there is great interest in learning from German expertise in the fields of environmental technology, management and sustainable combating of environmental problems. Joint development projects in agriculture, health, education and infrastructure would also contribute to the social and economic progress of local communities.
Counter-terrorism
Pakistan has made considerable progress in counter-terrorism and security, although challenges remain due to the resurgence of Tehrik-e-Taliban Pakistan (TTP) after the US withdrawal from Afghanistan in 2021. Increased cooperation with Germany could include intelligence sharing, training of security forces and implementation of effective counter-terrorism strategies – thus strengthening regional security and stability.
Diplomatic exchange
Regular high-level diplomatic dialogues would be a suitable platform for a better understanding between Pakistan and Germany. Cultural exchanges, academic programmes and people-to-people contacts help foster mutual respect and appreciation for each other's culture and heritage.
Pakistan would also be very interested in exploring the possibilities of military cooperation, joint exercises and the sale of defence equipment. After all, the recent agreement between Germany and India on the joint construction of six conventional submarines for the Indian Navy has the potential to negatively affect the already fragile strategic stability in the region.
Where there is potential for conflict
To effectively address Pakistan's security concerns while maintaining defence ties with India, Germany must adopt a nuanced approach that prioritises stability and confidence-building measures in the region. This approach should recognise the complicated dynamics between Pakistan and India and aim to address Pakistani security concerns.
Germany can play a central role in improving the business and investment environment in Pakistan. By streamlining bureaucracy, improving the legal framework and making it easier to do business, Pakistan could attract a greater influx of German investment. A deepened partnership that benefits both sides is obvious – the German side just has to want it and take the first step.