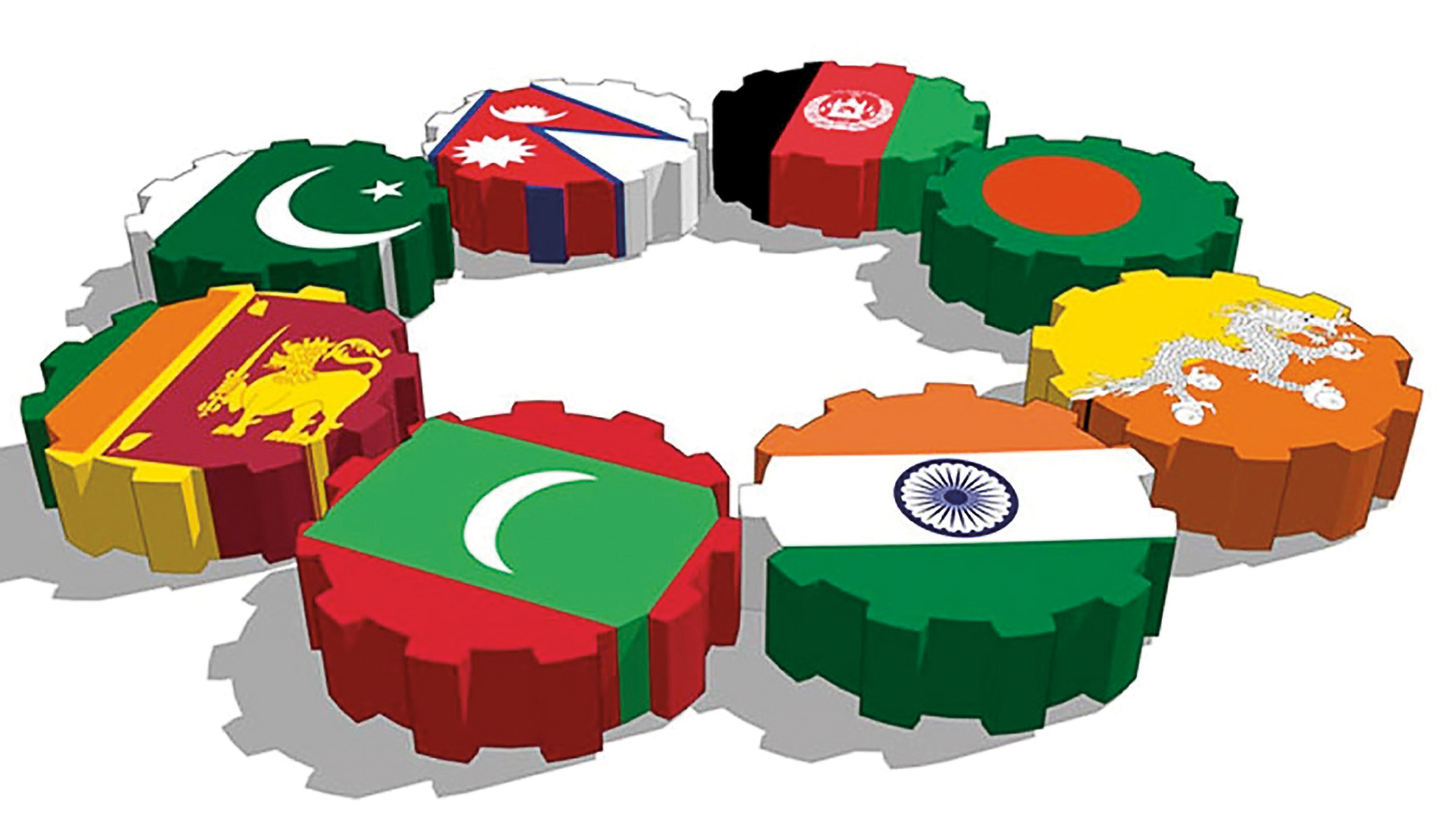 Syed Ali Zia Jaffery
A diverse set of countries constitutes the South Asian region. In close proximity to Central Asia and the Middle East, the South Asian region is strategically important and elicits international attention. A pivotal location can be, both, an asset and a liability for a state. Regrettably, South Asia has been unable to take advantage of its location and integrate for the benefit of its people. Regional stability has been marred by long-standing disputes, arms race and the quest for expanding spheres of influence on part of outside powers. Also, transnational threats including terrorism, climate change and water scarcity are impediments to prosperity and development in the region.
Despite the convergence of threats, South Asian countries have not effectively joined hands to deal with them. The expanse is beset with various destabilizing irritants that were clearly spelled out by the Chairman Joint Chiefs of Staff Committee(CJCSC), Gen. Zubair Mahmood Hayat, in a conference entitled Regional Dynamics and Strategic Concerns in South Asia, organized by the Islamabad Policy Research Institute (IPRI). The festering Kashmir dispute, instability in Afghanistan and the acceleration of arms racing typify the South Asian security architecture were some of the main themes explored in the conference, proceedings of which were published by IPRI (available on their website) and are reviewed here.
All these challenges require concerted and robust conflict resolution efforts. However, collective and coherent approaches are not being devised due to intense rivalries. Undoubtedly, the aforementioned roadblocks are keeping the region from actualizing its potential. The concern for South Asia watchers is that there is little hope for meaningful progress on these issues owing to simmering rivalries.
Regarded as a nuclear flashpoint, the Kashmir issue lies at the heart of the decades-old Indo-Pak rivalry. While peace in South Asia can only be achieved if both countries amicably resolve the conflict, New Delhi's recalcitrance is met by Islamabad's defiance. India's reticence to talk on Kashmir is faced with a Pakistan that continues its diplomatic, political and moral support for Kashmiris' right to self-determination.
Moreover, the resolution of the Kashmir dispute is also hampered by the Sino-US rivalry that has brought Washington and New Delhi into a strong strategic relationship. Termed as the net security provider in the Indo-Pacific Region, India was given a great boost vis-à-vis Pakistan when the US listed Hizbul Mujahideen leader Syed Salahuddin as a Specially Designated Global Terrorist and called upon Pakistan to ensure that its territory is not used against India. Visibly, Washington batted for India's long-held narrative on Kashmir.
Besides, the US also echoed India's view on the colossal China-Pakistan Economic Corridor (CPEC) when its Secretary of Defense, Gen. Mattis said that the project passes through a disputed territory. CPEC, by virtue of being a flagship of the Belt and Road Initiative(BRI), gives China access to markets in West Asia and the Middle East while obviating its reliance on the Strait of Malacca. China's meteoric rise was termed as a strategic competition and a greater threat to the US in its National Defense Strategy(NDS). Hence, the Indo-US strategic convergence must be seen in the context of US' efforts to contain China's clout in the region and beyond. Opposition to CPEC, owing to regional and global acrimonies, is stalling the chances of regional connectivity.
The simmering Afghan quagmire is also a victim of competition between regional and international actors. The prospects of regional cooperation for a peaceful settlement are dim. Pakistan and the United States bicker over the milieu in Afghanistan, the latter accuses Pakistan of not doing enough to clamp down on militants who are targeting US and Afghan forces. Pakistan, on its part, takes serious exceptions to elements that are perched in Afghanistan and are carrying out terrorist attacks in the country. Also, in-line with its long-held security psyche, Pakistan opposes Indian role in chalking out a future dispensation for Afghanistan. Former Pakistani envoy to Afghanistan, Rustum Shah Mohmand while presenting his paper "Navigating Troubled Pathways: India's Role in Afghanistan and Pakistan's Apprehensions," at the above mentioned IPRI conference stated, "the perception in Islamabad is that by establishing a strong foothold in Afghanistan, India would, in many different ways, try to cause damage to its vital security interests."
Apart from these misgivings, the Afghan situation can vitiate due to China's growing ingress in Afghanistan. China has been active in Afghanistan in the realms of diplomacy and economy. It has ramped-up its efforts to find a solution to the imbroglio. Beijing's view on the war in Afghanistan resonates with that of Pakistan, something that can cause the US to mistrust China's diplomatic initiatives. Moreover, China's bid to include Afghanistan in the highly-touted CPEC may not sit well with the US, for it has termed such Chinese efforts as part of "predatory economics."
Perhaps, the subversive role that the US-Russo tiff can play in Afghanistan has been understated. Moscow's resurgence in the international arena is reflective in its activities in Afghanistan. It launched the Moscow Process and implored the US to contrive a political settlement with the Taliban and fight the menace of the Islamic State Khorasan Province (ISKP). However, a unified front against terrorism looks improbable as both Washington and Moscow resort to recriminations. The US alleges Russia of arming the Taliban while Russia blames the former for supporting the Islamic State(IS). Afghanistan is fast becoming a new theatre for a Russo-US showdown.
There is another challenge to peace in South Asia that pertains to the age-old Indo-Pak rivalry. The bilateral deterrence equation between the two arch-rivals is under constant threat. Fears of escalation and failure of deterrence have emerged due to India's quest for escalation dominance vis-à-vis Pakistan. Bolstered by its ties with Washington, New Delhi's advancements in its nuclear and conventional forces are compelling Pakistan to follow suit. India's seaward nuclear expansion was followed by that of Pakistan and its pursuit of Ballistic Missile Defense(BMD) system resulted in Pakistan moving towards MIRVing its delivery vehicles. Pakistan has also developed theatre nuclear weapons in a bid to thwart India's incendiary Cold Start Doctrine. While a maximalist approach lends strength to deterrence, the non-resolution of disputes between the two countries may result in early reliance on the ultimate weapon.
All these concerns are conspicuous and becoming more glaring due to intense adversarial relations. The US is the strongest party involved in the region and has a great role to play. As an experienced crisis manager in the region, the US must now put a premium on crisis prevention. It can do so by encouraging an Indo-Pak dialogue and finding a broad based settlement in Afghanistan. If allowed to fester, inter state rivalries will dent prospects of the ascendency of geoeconomics in South Asia.
Syed Ali Zia Jaffery is a Research Associate at the Center for Security, Strategy and Policy Research, University of Lahore.